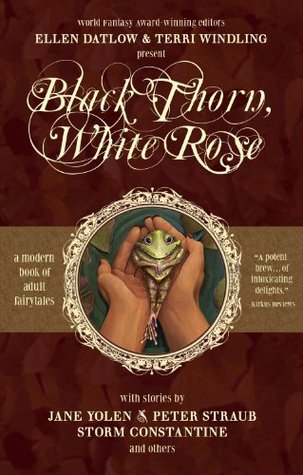 Title: Can't Catch Me
Author: Michael Cadnum
In: Black Thorn, White Rose (Ellen Datlow & Terri Windling)
Rating Out of 5: 4.5 (Amazing, but not quite perfect)
My Bookshelves: Fairy tales, Fantasy, Retellings
Dates read: 6th April 2020
Pace: Fast
Format: Short story
Publisher: Prime Books
Year: 1994
5th sentence, 74th page: It was a shock, I can tell you, and I think I might have been a little bit more prepared, but I know everyone says Mom and Dad should have done a better job, and I get tired of people blaming someone else for their problems.
Did you ever wonder why the gingerbread man ran? Or why they chased him? This story will answer all those questions…
I just finished reading this short story and I can't get the rhyme "you can't catch me, I'm the gingerbread man!" out of my head. There is something very lyrical and stuck-in-the head about it all. And now I'm going to spend the rest of the night chanting that to my dogs and just generally freaking them out…
I've never really thought about how the gingerbread man felt in the story. Or even why so many people were chasing a cookie… but this short story definitely gave a new spin to an old classic. There is something in the way it's written and the intensity of the story that made me go "duh" of course that's the way that it was.
My favourite aspect of this story though was the very beginning. Something about those very first words completely drew me in and made me absolutely fascinated by the world in which "hot" is the beginner. And parents are just trying to do what's best for you… even if it is keeping you in the oven.