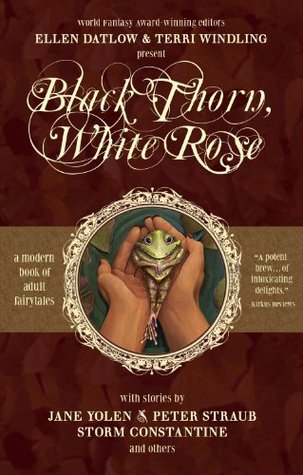 Title: Ogre
Author: Michael Kandel
In: Black Thorn, White Rose (Ellen Datlow & Terri Windling)
Rating Out of 5: 4 (Really good read!)
My Bookshelves: Fae, Fantasy
Dates read: 25th March 2020
Pace: Slow
Format: Short story
Publisher: Prime Books
Year: 1994
5th sentence, 74th page: At least he had no problem carrying.
All he wants is to put on an amazing play. But, with a series of blunders, an inept crew and a few others out to get him… things aren't quite going as planned.
You know that a story is going to be kind of funny and really interesting when it starts out with someone telling another character to stop eating human flesh. Because it gives him bad breath. And that he can't have that when acting. It's a pretty interesting and funny start to a story. One that I was giggling about from the very beginning of this very short story.
I've never really had an inclination to do any form of acting. Just not my thing I suppose. But I do love the fodder that it provides for story telling. And the fact that this was shifted to include what I can only assume is a paranormal / fae cast (one of which I hope is an ogre) just made it all the more fun. And incredibly funny.
This is a seriously short story (only about 5 or 6 pages). But it's just enough to make me enjoy Kandel's writing and wonder at what else he has written. That, and just enjoy the journey that I got to go on with this writing in the first place. It is enjoyable, fun and totally unique. Definitely a short story that I won't mind reading again.