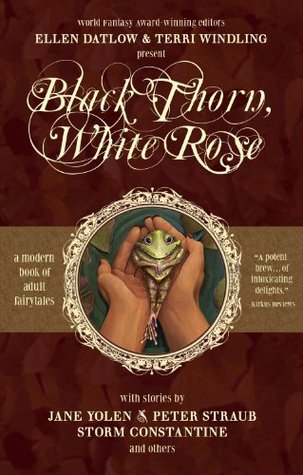 Title: Journeybread Recipe
Author: Lawrence Schimel
In: Black Thorn, White Rose (Ellen Datlow & Terri Windling)
Rating Out of 5: 4 (Really good read!)
My Bookshelves: Fairy tales, Horror
Dates read: 20th April 2020
Pace: Fast
Format: Short story
Publisher: Prime Books
Year: 1994
5th sentence, 74th page: Cover, and, warm and moist, let the bloated belly rise nine months.
A quaint, disturbing little recipe.
Not quite a poem, and not quite prose. This is a really disturbing two pages of reading. But, you know… disturbing in the best of ways.
I love that this is the recipe for making a Gingerbread Man. After all, there are so many different stories about the man (boy, child) himself, but so very few that feature the making of him. Or the motives behind his making… that one I'm still trying to figure out.
Although this is just two pages. It is really, seriously disturbing. It is a unique take on the very well-known fairytale. One that left me with a seriously uncomfortable and unsettled feeling at the end of it. Just brilliant.