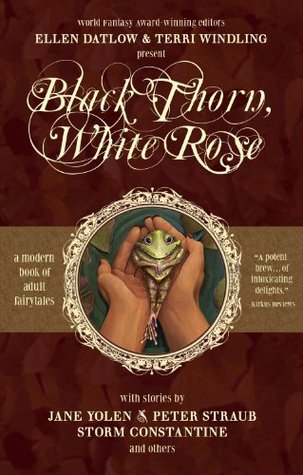 Title: The Frog King, or Iron Henry
Author: Daniel Quinn
In: Black Thorn, White Rose (Ellen Datlow & Terri Windling)
Rating Out of 5: 5 (I will read this again and again and again)
My Bookshelves: Fairy tales, Retellings
Dates read: 6th March 2020
Pace: Slow
Format: Short story
Publisher: Prime Books
Year: 1994
5th sentence, 74th page: Yes.
He might be the frog the princess rescued from her enchantment, but there was an extra curse. Sometimes, in the fairy tales, there isn't a happily ever after. Or at least, not one that's remembered.
It takes a little while to realise which fairy tale this story is based on. Mostly because the lead has amnesia and the fairy tale has already happened. And the same sentences are repeated again and again. But then there's the mention of the ball… and it starts to fall into place again.
Happily ever afters are not something that I strongly believe in. I love the idea of them. But I don't think that just because two people find each other and fall in love / get married, they're going to live happily ever after. Especially considering the fact that there is a whole lot of life left to live. This story kind of echoes this feeling, but in a seriously insane way.
I love the repetition throughout. It's a story about amnesia, but normally you would find such tales didn't repeat the same phrases over and over again. This one does. It drives home the idea that there isn't a happily ever after, and sometimes we don't remember all of the things that have happened.