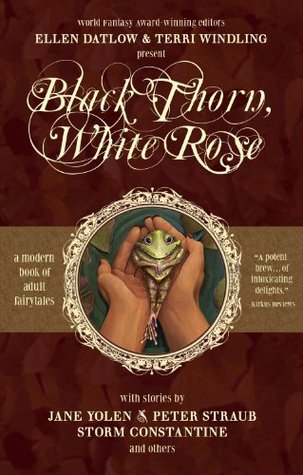 Title: Near-Beauty
Author: M.E. Beckett
In: Black Thorn, White Rose (Ellen Datlow & Terri Windling)
Rating Out of 5: 4 (Really good read!)
My Bookshelves: Fairy tales, Retellings, Science fiction
Dates read: 9th March 2020
Pace: Medium
Format: Short story
Publisher: Prime Books
Year: 1994
5th sentence, 74th page: She became uneasy, at last, not because it was watching, but because it looked intent; if that stare had come from a human, she'd have called him horny.
She's not quite beautiful. She's not quite ugly. But, when she meets the toad of her dreams, she finds out that near-beauty might just be enough.
One of the things that I love the most about this story is that it's not about a stunningly beautiful woman. Or a frog that miraculously turns into a gorgeous prince. It's about those that are almost beautiful. That almost make the cut. It's a great way to retell a well-known fairy tale, but with a more relatable spin to it.
This is a great sci-fi spin on The Princess and the Frog. She doesn't magically get whisked away and find her happily ever after. Rather, she makes a choice to join an alien species and make something more. Something different of her life.
Mostly, I love that this is all about two individuals who don't quite make the beauty boat cut. They're almost beautiful. They're almost everything that they want to be. But they don't quite make it… which is far more relatable and nice to read about than a stunning beauty. It's also a great reminder that good things don't just happen to the stunningly beautiful, but to us more ordinary folk too.