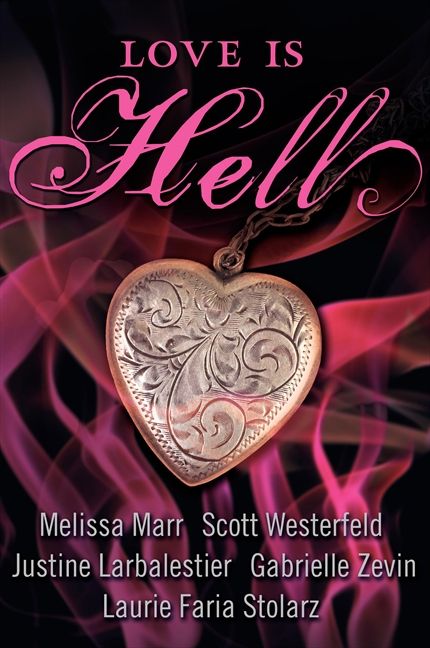 Title: Love Is Hell
Author: Melissa Marr, Scott Westerfield, Justine Larbalestier, Gabrielle Zevin & Laurie Faria Stolarz
In: Love is Hell ( Melissa Marr, Scott Westerfield, Justine Larbalestier, Gabrielle Zevin & Laurie Faria Stolarz)
Rating Out of 5: 4 (Really good read!)
My Bookshelves: Paranormal fantasy, Short story collections, Young adult
Dates read: 10th July – 24th September 2019
Pace: Medium
Format: Anthology
Publisher: Harper Teen
Year: 2008
5th sentence, 74th page: There hadn't been any Scarcity classes back in his day, and he never understood how I could get worked up over an ungraded course.
Sure, love is hell. But it's totally worth it. 88 In these supernatural stories by five of today's hottest writers – Melissa Marr (Wicked Lovely), Scott Westerfeld (Specials), Justine Larbalestier (Magic or Madness), Gabrielle Zevin (Elsewhere), and Laurie Faria Stolarz (Blue is For Nightmares) – love may be twisted and turned around, but it's more potent than ever on its quest to conquer all.
From two students who let the power of attraction guide them to break the had-and-fast rules of their world to the girl who falls hard for a good-looking ghost with a score to settle, the clever, quirky characters in this exciting collection will break your heart, then leave you believing in love more than ever.
I both thoroughly enjoyed this series and consistently wanted to punch some of the characters in the face. I was expecting tragic tales of passion, lust and love. Instead I got a series of young adult tales with some seriously whiney leads. Not in every circumstance. Not in all ways. But enough so that I couldn't give this collection a five star rating.
There were a few stories in this collection that I thoroughly enjoyed. They reminded me of the books I read as a child that had just a tantalising hint of romance. Nothing overt and sexual, but enough there to make you think that happily ever after was possible. I even found some of the stories incredibly cute. after all, there is something enjoyable about the innocence of young love that I just don't find in many of the books that I read today. There was also a lot that had me questioning what constitutes romance these days, and what love is truly about…
Love isn't something that is simple, beautiful and complete. Or at least, it hasn't been in my experience. It's this intensely complex and difficult thing to deal with. It makes part of your life better and can leave you feeling more complete. But it also leads to a lot of complications and indecisions. Some of these stories highlighted that beautifully in this "love is hell" theme. Some not so much. But it was definitely worth the read.