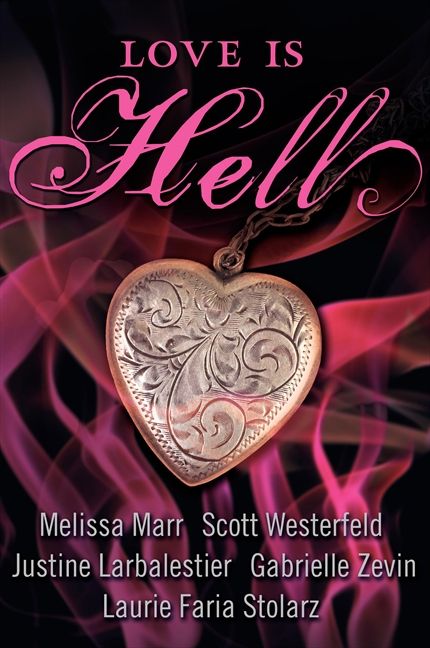 Title: Sleeping with the Spirit
Author: Laurie Faria Stolarz
In: Love is Hell ( Melissa Marr, Scott Westerfield, Justine Larbalestier, Gabrielle Zevin & Laurie Faria Stolarz)
Rating Out of 5: 4 (Really good read!)
My Bookshelves: Contemporary, Easy reading, Ghosts
Dates read: 10th July 2019
Pace: Slow
Format: Novella
Publisher: Harper Teen
Year: 2008
5th sentence, 74th page: "Hello, Brenda."
Brenda can't sleep at night, she's being haunted by a specter in her dreams. But, when she realises what he actually wants, she decides that sleep might not be the worst thing after all.
I've obviously been reading much too much paranormal romance stories of late. Just by reading the title of this novella, I was expecting something far more erotic and a lot less… innocent. And kind of cute. It was a surprise, but it was a nice one.
This story made me really want to pick up tales of necromancy and ghost-speakers. The idea of a young girl seeing ghosts, not only her own sister, but also a boy who had been killed twenty years before hand was just a little too fun and close to other, similar stories on my shelves. But, I digress…
Brenda is a nice female lead, she's scared by her past, unsure of her future and just generally confused. And, I mean, what teenager isn't? The fact that she's being haunted just seems to make it that much worse. Yet, in the end, she finds a way to heal, do the right thing and embrace the new life and reality that she wants in her world.
I was kind of expecting a bit of a murder mystery / thriller to this story. Especially when the fact that Brenda lives in a "blood bath" house was revealed. But it wasn't even remotely about that. This story was about forgiveness and moving on. Finding hope in love, in whichever and whatever form that takes. Which is why I found it so sweet.