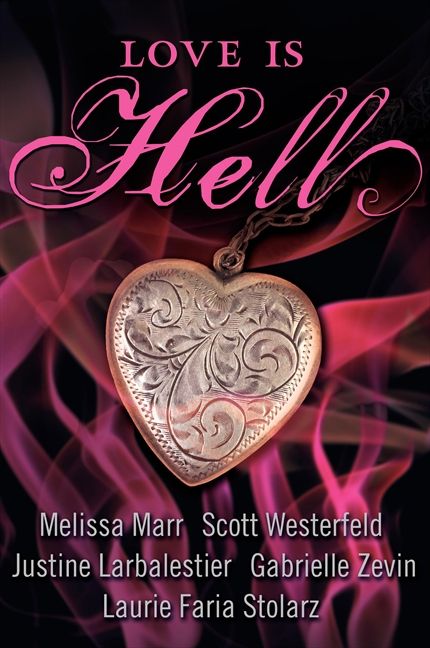 Title: Stupid Perfect World
Author: Scott Westerfeld
In: Love is Hell ( Melissa Marr, Scott Westerfield, Justine Larbalestier, Gabrielle Zevin & Laurie Faria Stolarz)
Rating Out of 5: 4 (Really good read!)
My Bookshelves: Easy reading, Romance, Science fiction
Dates read: 12th – 13th July 2019
Pace: Medium
Format: Novella
Publisher: Harper Teen
Year: 2008
5th sentence, 74th page: There hadn't been any Scarcity classes back in his day, and he never understood how I could get worked up over an ungraded course.
Scarcity class is a class all about what it used to be like when you needed sleep, had to deal with hormones and could catch a cold. Two young teenagers are about to discover the wonders of dreams and the challenges of the past in a two week project. One that could just lead them to their own little happily ever after in such a stupid perfect world.
The first part of this story really didn't grab me. Which is why I didn't just read through it in one sitting. It was late at night, and I quite frankly decided that going to sleep was probably going to be more beneficial to my tomorrow's health than reading this short story. But then I picked it up the next day. And once you get past those first few pages, this short story is actually really, really good. It is fun and interesting. And kind of makes a mockery of the idea of creating a perfect world.
I'm completely new to Scott Westerfeld, so I wasn't really aware that he wrote sci fi stories. Which meant that in the beginning when Scarcity class, trips to Mars and classes at the North Pole were mentioned, I had no freaking idea what was happening. I thought this story was in a collection of fantasy tales, so it threw me more than a little. Once my slow, tired little brain caught on however, I started getting really quite excited. This was a great concept. A future world in which all of the things we just take as part of everyday life (sleep, common cold, travel) have been removed. People live in this completely perfect world that has none of the annoying, time consuming parts of today.
There was a slightly satirical nature to this story. The title, and repetition of the phrase "stupid perfect world" reminded me that it's all those horrible, annoying things that happen which can kind of make it all the more fun. After all, where would we be if we didn't make stupid mistakes, let our hormones get ahead of us and have the most tripped out dreams? I feel like so much just wouldn't happen, and life would certainly be incredibly boring.