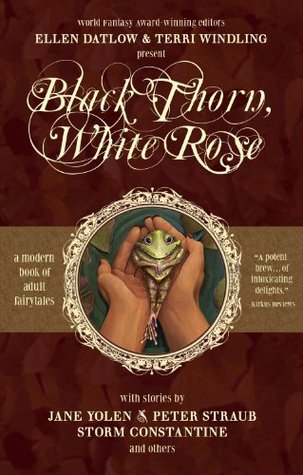 Title: Stronger Than Time
Author: Patricia C. Wrede
In: Black Thorn, White Rose (Ellen Datlow & Terri Windling)
Rating Out of 5: 5 (I will read this again and again and again)
My Bookshelves: Fairy tales, Retellings, Romance
Dates read: 7th May 2019
Pace: Medium
Format: Short story
Publisher: Prime Books
Year: 1994
5th sentence, 74th page: "I know the plant," Arven said shortly.
What would happen if Sleeping Beauty's prince was just a bit off on his timing? How would the two star crossed lovers meet and live their happily ever after?
This was such a beautifully bittersweet storyline. Sleeping Beauty (the Disneyfied version) has always felt a little bittersweet to me. After all, a mistake on her parents' behalf curses her to a hundred years in sleep. A hundred years in which her loved ones, friends, acquaintances are all unable to live their lives. And it is just the single kiss of a man who is fighting brambles which saves her. In this retelling, Wrede asks just what would happen if the prince were too early or too late? What would happen if the fairy tale just didn't quite happen the way it was supposed to?
I'm a big believer in destiny. I like the idea that you have a soul mate and that there is someone out there for you. I love when I'm reading the idea of being pulled towards a certain moment or person in time. But I've never really thought about what happens when you're a little too excited and you just don't quite manage to get the timing down pat. What happens when an impulsive young fool decides that he should ignore everything that has been laid out before him. And it's this idea that makes the storyline so bittersweet. It made me love the ending and clutch this book to my chest with a happy little sigh.