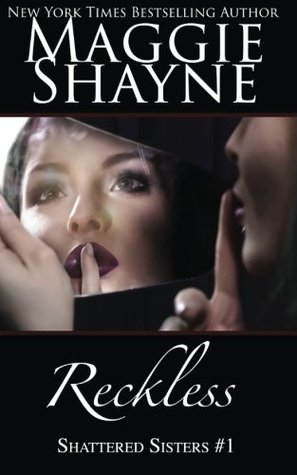 Title: Reckless
Author: Maggie Shayne
Series: Shattered Sisters #1
Rating Out of 5: 4 (Really good read!)
My Bookshelves: Romantic suspense
Pace: Fast
Format: Novel
Publisher: Thunderfoot Publishing
Year: 1993
5th sentence, 74th page: Just the way he'd wanted to protect Danny.
True Crime Writer Toni Rio follows a wise guy straight from his brief stint behind bars to his execution in a dirty alley. When his two killers see her wtinessing their gruesome work, she runs, but she doesn't get far.
FBI agent Nick Manelli has to keep his cover intact and keep the sexy witness alive, and there's only one way he can think of to do both. He has to kidnap her.
RECKLESS (formerly Reckless Angel) was the first published novel of romance superstar Maggie Shayne's stellar career. This romantic thriller, a RITA Award nominee that garnered raves from RT Book Reviews, has been completely revamped for today's readers.
I really didn't know what to expect when I was reading this novel – I had read a Maggie Shayne short story in an anthology, wanted more, and this was the first in a series that I could get in one of my local bookstores. That was the entirety of my decision making when it came to getting this and reading it. and I'm really glad that I did. I've been on a romance hit lately, but the fact that this wasn't paranormal, or historical, or any of my normal genres made me incredibly happy. I now have a new shelf on my bookshelves – Romantic suspense!
Although this was a romance that you knew who the two leads were straight away (there really weren't overly many secondary characters), I like that neither of them succumbed until quite far through the story. Both leads had strong characters and a lot of secrets that prevented them from falling for their lustful fantasies. Which was really refreshing. Particularly Toni's spunk when she is placed in situation after situation that would make less independent and stubborn women wilt. Which is exactly the kind of characters that I love to read about – they are able to fight and be themselves regardless of their circumstances.
To complement the romantic storyline of this novel, Shayne writes a great, fast-paced story of action and crime. The use of a mob boss, the FBI and a woman who is an incredible investigator not only helps to move along the romance, but it helps to up the stakes. Actually, unlike most other romances that I've read, I found myself more interested in the suspenseful outcome than the romantic one.
| | |
| --- | --- |
|  <- Hunted Review | Forgotten Review -> |