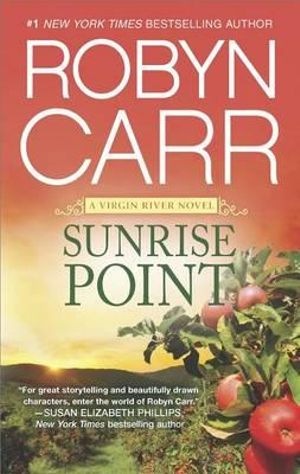 Title: Sunrise Point
Author: Robyn Carr
Series: Virgin River #17
Rating Out of 5: 5 (I will read this again and again and again)
My Bookshelves: Contemporary, Contemporary romance
Dates read: 19th – 20th September 2021
Pace: Fast
Format: Novel
Publisher: Mira
Year: 2012
5th sentence, 74th page: He was smiling.
Return to Virgin River with the books that started it all…
Nora Crane will do what it takes to keep her family afloat. Things are better than they've been for a while; still, she's barely scraping by. But she's got two little girls to look after so she's willing to work hard and help out with harvesttime at the Cavanaugh orchard.
Her new boos is tom Cavanaugh. After his time in the Marines, he's come home to take over the family farm. Tom thinks he knows what he wants – he's ready to settle down with a sweet, traditional woman. Nora doesn't seem to be the marrying kind, but he can't keep his eyes off her, despite his best efforts. And Nora has no intention of getting involved with anyone. She's got enough relationship baggage to last her a lifetime.
But in Virgin River, love finds its own way, and it starts to become clear that Nora and Tom won't be able to stay just friends.
Nora has appeared on the sidelines of a few Virgin River books now. And she's always just… sweet and so damn innocent. Reading her story in Sunrise Point just highlighted that she is made of some seriously strong stuff and independence. Actually, she's one of my most admired leading females of late.
Tom is kind of cute with his appearance in Redwood Bend. But he was also a little bit short sighted in his own damn love story. I can't even fathom making the decision to settle down and then just making assumptions about what will work. Luckily, he wasn't too pig headed throughout and did eventually decide that Nora was a good bet. Before it was too late.
I enjoyed the vast majority of the book. But, as mentioned Tom's judgement was a bit of a dickish move. Particularly when he decides to tell his grandmother that he's proposing. I really don't believe that she ever did anything wrong, yes she made mistakes, but they were out of innocence and love. Yet, even in his decision making to propose, Tom acts as though they're a character flaw. All in all I liked him as a character and thought he was actually perfect for Nora. But I seriously didn't enjoy this attitude.
The setting of this story was kind of romantic. An apple orchard in the Fall, picking and a gorgeous small town. The ending was a great happily ever after. One that most definitely left me smiling at the end of it all.