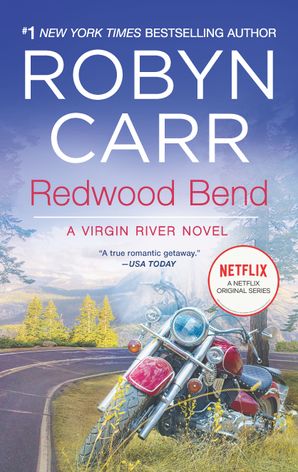 Title: Redwood Bend
Author: Robyn Carr
Series: Virgin River #16
Rating Out of 5: 5 (I will read this again and again and again)
My Bookshelves: Contemporary, Contemporary romance
Dates read: 17th – 19th September 2021
Pace: Fast
Format: Novel
Publisher: Mira
Year: 2012
5th sentence, 74th page: How can I help you?
Return to Virgin River with the books that started it all…
Former actor Dylan Childress left the LA scene for a quiet life running an aviation company in Montana. But with business slowing, Dylan wonders if he should take one of the offers Hollywood keeps sending his way. He figures a motorcycle trip to Virgin River with his buddies might help him decide what path to take. But his own troubles are left at the side of the road when he spots a woman stranded on the way into town.
Katie Malone and her twin boys' trip to Virgin River is stopped short by a tire as flat as her failed romance. To make matters worse, it's raining, the boys are hungry and Katie is having trouble putting on the spare. So when some bikers pull up, offering to help, all Katie feels is relief. Then she sees sexy, leather-clad Dylan, and in one brief moment the world turns on its axis.
Katie's a sensible single mother and Dylan's a die-hard commitment-phobe. Neither one is looking for long-term romance. But sometimes it takes only a moment to know you've found something that could change your life forever.
Katie's appearance in Hidden Summit made me fall immediately in love with her. She is sweet and kind, with the rambunctious boys running free and wild. I hadn't quite realised that this was her story until I opened the first page. And I love that she didn't stay with the dentist, but found a much more suitable happily ever after.
Katie and Dylan were adorable and wonderful. But, honestly, the boys are the ones who tend to stand out in the spotlight. They are so much fun and full of this wonderful energy that I seriously envy. The fact that one of the biggest dramas comes from them being, well, five year old boys… it just made everything better.
I'm always frustrated by people (both real and fictional) who have decided that they have an issue, or a type, or a path laid out for them. We can't determine how our lives will turn out and quite frankly I find it frustrating as hell when people think otherwise. Dylan was the key person to do this in this story. And it made me want to smack him one. Yet, he was so much less frustrating about it than many characters I fall in love with in my many, many books.
Redwood Bend was beautiful and fun. I love that it created a blended family and had a few surprises along the way. But, at the end of it all, there weren't any crazy exes or serious issues to get over. Rather, it was just a light, fun and engaging read. One I look forward to picking up again in the future.