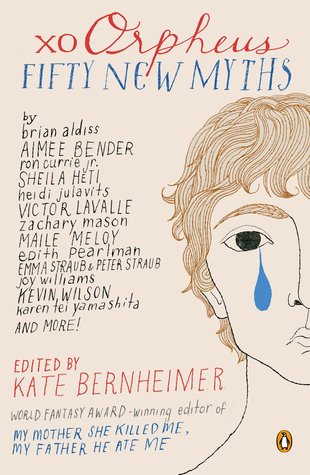 Title: Devourings
Author: Aimee Bender
In: Xo Orpheus (Kate Bernheimer)
Rating Out of 5: 4.5 (Amazing, but not quite perfect)
My Bookshelves: Mythology
Dates read: 15th August 2021
Pace: Slow
Format: Short story
Publisher: Penguin Books
Year: 2013
5th sentence, 74th page: Same with the worms.
The ogre's wife was a good woman. She was not an ogre, but she was ugly, by human standards, and she had married the ogre because he was strong and productive, and together they had made six small ogre children. The children all took after their father.
I've read the story of the human tricking the ogre into eating his own children a few times. I'd never thought if what it was like for the mother of those children though. Or even what the father felt after he did such a terrible thing…
The way this story turned those ideas and fairy tales on their head was brilliant. There's also a cake that replenishes itself and a cloak that hides you in plain sight. The woman in this feels… in pain after her children are eaten, but still very much in love with her husband. It gives a whole heap more humanity to the "bad guys" of the original fairy tale.
Going in a pilgrimage of sorts to heal after losing your children is completely understandable. I love how this mother and woman just… takes it in stride and lives and experiences things to let herself heal. There is no hatred and horror, just a way of moving towards a new future.