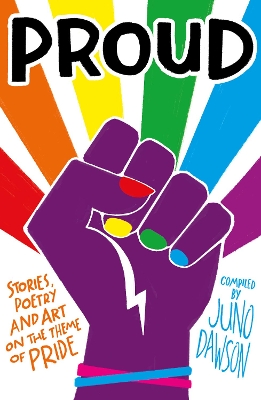 Title: On the Run
Author: Kay Staples
In: Proud (Juno Dawson)
Rating Out of 5: 4.5 (Amazing, but not quite perfect)
My Bookshelves: Contemporary, LGBTQI
Dates read: 30th June 2021
Pace: Slow, Medium, Fast
Format: Short story
Publisher: Little Tiger
Year: 2019
5th sentence, 74th page: The next message I'd got from him was at eleven thirty at night, after I'd settled down to sleep because I had college in the morning.
Two teenagers on the run. They thought it'd be a little more glamorous… but reality isn't always what we expect. It can be better!
This was a seriously cute and sweet story. At the beginning, I was a little uncertain.. I mean two teenagers on the run? You've gotta be concerned. But, as the story unfolded… it was just beautiful!
I love how the information and uncertainty of being Nicky unfold as the story unfolds. Its such a cute and sweet tale that makes you… smile. You just keep hoping for the best with these characters and wanting the happily ever after they so obviously need.
What I found surprising about this is that they were not on the run due to their identities. It was a total twist that I wasn't expecting. And I seriously, deeply enjoyed it!