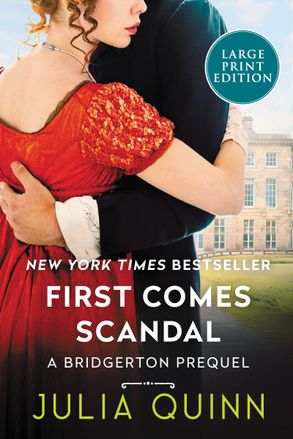 Title: First Comes Scandal
Author: Julia Quinn
Series: Rokesbys #4
Rating Out of 5: 5 (I will read this again and again and again)
My Bookshelves: Historical romance, Regency romance
Dates read: 25th – 26th April 2021
Pace: Medium
Format: Novel
Publisher: Avon
Year: 2020
5th sentence, 74th page: "Certainly unethical."
She was given two choices…
Georgiana Bridgerton isn't against the idea of marriage. She just thought she'd have some say in the matter. But with her reputation hanging by a thread after she's abducted for her dowry, Georgie is given two options: live out her days as a spinster or marry the rogue who has ruined her life.
Enter Option #3
As the fourth son of an eral, Nicholas Rokesby is prepared to hart his own course. He has established himself in Edinburgh, where he's close to completing his medical studies, and he has no time – or interest – to find a wife. But when he discovers that Georgie Bridgerton – his literal girl-next-door – is facing ruin, he knows what he must do.
A Marriage of Convenience
It might not have been the most romantic of proposals, but Nicholas never thought she'd say II no. II Georgie doesn't want to be anyone's sacrifice, and besides, they could never think of each other as anything more than childhood friends… or could they?
But as they embark upon their unorthodox courtship, they discover a new twist to the age-old rhyme. First come scandal, then comes marriage. But after that comes love…
As the final story in the Rokesbys series, I was kind of expecting a little more drama in this story… I was completely floored by the fact that there was pretty much no drama whatsoever in this story. As in. None. At all. Actually, it was one of the most pleasant, happy and drama free stories I've read in a long time. And even though it wasn't fast-paced and there wasn't much drama… I still couldn't put this down and forget about it. It was just that amazing!
Nicholas and Georgie work so beautifully together. I love that of the four Rokesby stories, three ended up with Bridgertons. This is also the only one that mentions Violet Bridgerton, along with the three eldest boys from the Bridgerton series – Anthony, Benedict and Colin. It finally made this actually feel like the prequel series that it supposedly is and tied everything in perfectly. I love that there is this constant sense of interconnectedness throughout the series that makes you urgently reaching for the next book.
This was a seriously quick friends to lovers moment. I was expecting a little more resistance to the idea, but I kind of like how quickly Nicholas and Georgie fell for one another. It made me smile frequently and happily throughout. Definitely the kind of quick falling in love that I prefer – one that is built on years of friendship and camaraderie. It also meant that those frequent moments in which Georgie is being independent and pig-headed are totally expected by Nicholas, and kind of endearingly loved.
As with many of Quinn's books, I loved the epilogue at the end. I love how Georgie's interest was nurtured by Nicholas and helped them grow into the perfect pair. I kind of want to see them in more Quinn books in the future… they're just so simply glorious together.