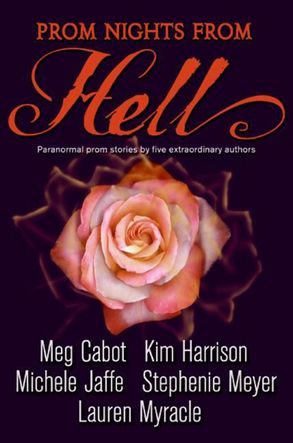 Title: Kiss and Tell
Author: Michele Jaffe
In: Prom Nights from Hell (Meg Cabot, Stephenie Meyer, Kim Harrison, Michele Jaffe & Lauren Myracle)
Rating Out of 5: 4.5 (Amazing, but not quite perfect)
My Bookshelves: Paranormal fantasy, Superheroes, Young adult
Dates read: 20th November 2020
Pace: Medium
Format: Novella
Publisher: Harper Collins
Year: 2007
5th sentence, 74th page: Like little dolls, yeah, he liked to think of them that way.
Miranda just wants to be like everyone else and go to the prom with the boy that she likes. But an awkward encounter and an irritating client are about to make her prom a very interesting and action-packed night.
Being a teenager is super awkward. It doesn't really matter how you look at it, that's just a fact. But being a teenager with superpowers? Yeah, that would be particularly difficult. Which is why I loved this story – it's all about a girl who is just trying to navigate the horrible teenage years. But then has all these extra, added difficulties.
All in all, I didn't think that this was the worst prom night ever. In fact, it seemed like it would actually be a little bit fun. If it wasn't for the fact that there were multiple gunmen hunting different people. And, there is a happily ever after moment at the end of this which was seriously sweet.
Sibby is a bit of a pain in this story. But Miranda is a great lead and completely drew me in. They balanced each other well, and I had this image of the two finding a way to be friends long after the ending of this story. I mean, an irritating Kiss Bandit and the Roller Derby Princess? That's a friendship that I can get behind.