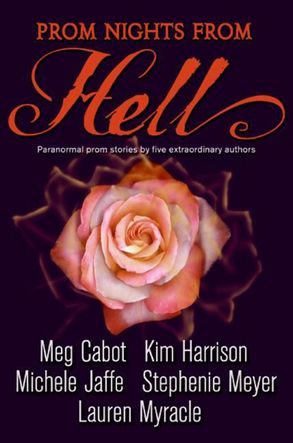 Title: Madison Avery and the Dim Reaper
Author: Kim Harrison
Series: Madison Avery #0.5
In: Prom Nights from Hell (Meg Cabot, Stephenie Meyer, Kim Harrison, Michele Jaffe & Lauren Myracle)
Rating Out of 5: 4.5 (Amazing, but not quite perfect)
My Bookshelves: Death, Grim reapers, Paranormal fantasy
Dates read: 14th November 2020
Pace: Fast
Format: Novella
Publisher:Harper Collins
Year: 2007
5th sentence, 74th page: Farther down the hall three kids loitered at the main door.
Madison doesn't like that she had to move to a small town to spend time with her Dad. She doesn't like her school. And she doesn't like that she was forced to go to a lame, pirate themed prom. But she's going to like what happens next even less…
Well, this story certainly features the worst birthday and prom ever. Yet, it was also the best kind of prom to read about. After all, it involved death and reapers and all sorts of mysteries that I can't wait to stop and unravel. There's most definitely a reason for my current obsession / love of Kim Harrison…
There is something about world building that always draws me in completely. Particularly when it is done so beautifully and succinctly in a novella. I'm already drawn into the world of Madison Avery and all of its law. And, even though the lead character is a girl that would usually just frustrate the heck out of me (she's so against being a part of anything that she's coming off as snobbish), it somehow all works together brilliantly.
I love that there is a whole heap of reaper lore in this story. There's good reapers and bad reapers. And then all sorts of mystery and backstory that I really, really want to dig into! I can't wait to find more stories which feature this lore and world building.
It sucks to die on your birthday, but the greater mystery in this story is one that fascinates me….