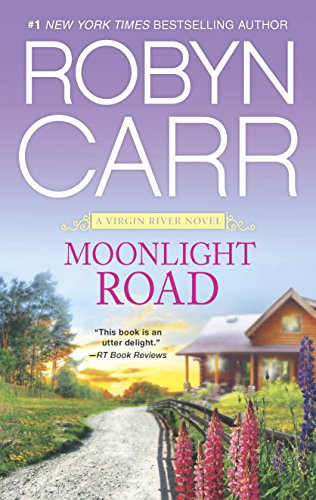 Title: Moonlight Road
Author: Robyn Carr
Series: Virgin River #10
Rating Out of 5: 5 (I will read this again and again and again)
My Bookshelves: Contemporary, Contemporary romance
Dates read: 17th August – 11th September 2020
Pace: Medium
Format: Novel
Publisher: Mira
Year: 2010
5th sentence, 74th page: Are you going to be a beautician when you grow up?
With her beloved younger siblings settled and happy, Erin Foley has empty-next syndrome. At age thirty-five.
So she's hitting the pause button on her life and holing up in a secluded (but totally upgraded – she's not into roughing it) cabin near Virgin River. Erin is planning on getting to know herself… not the shaggy-haired mountain man she meets.
In fact, beneath his faded fatigues and bushy beard, Aiden Riordan is a doctor, recharging for a summer after leaving the navy. He's intrigued by the pretty, slightly snooty refugee from the rat race – her meditating and journaling are definitely keeping him at arm's length. He'd love to get closer… if his scruffy exterior and crazy ex-wife don't hold him back.
But maybe it's something in the water – unlikely romances seem to take root in Virgin River… helped along by some well-intentioned meddling, of course.
One of my favourite things about any romance series is the way in which the characters are all intertwined in some way, shape and form. And Carr is able to bring this talent to a whole new level – the further into the series of Virgin River that I go, the most intertwined everybody becomes and the more I get sucked into this amazing world. I love that it kind of reflects real life (at least in my small part of the world) in that everybody is connected in some way, shape or form.
The meet cute between Erin and Aiden is probably my favourite so far in this series… after all, he scares the crap out of her and manages to get her to knock herself unconscious. Alright, maybe not the meet cute that I would have wanted in my life. But it was still a great beginning in a romance book. The fact that they are both already connected to past characters within the series – Marcie, Sean, Shelby, etc. just made their meeting all that much cuter (see what I did there).
I love that this is a melding of two highly trained professionals – a doctor and a lawyer. It's not something that I necessarily come across frequently in the stories that I read – generally there is one of this sort of professional, not two trying to find their new lives and their happily ever after. The fact that it kind of becomes derailed by Analee – the most terrifying derailment so far, just helps to highlight the awesomeness of this couple. They somehow seem tougher and a little scarier than some of the other couples. I'd certainly not want to mess with them anyway!
On top of the wild ride that is Erin and Aiden falling for each other, Mel and Jack continue to have their own side story. I'm at a point in my life when quite a few friends are getting pregnant or trying to. So reading about Mel's difficulty in dealing with her hysterectomy and the residual issues that accompany such a thing… it seemed like a fantastic time to face up to and confront such a tough topic. It's one of my favourite things about this series – that confrontation of issues that many people face, but no one really talks about…