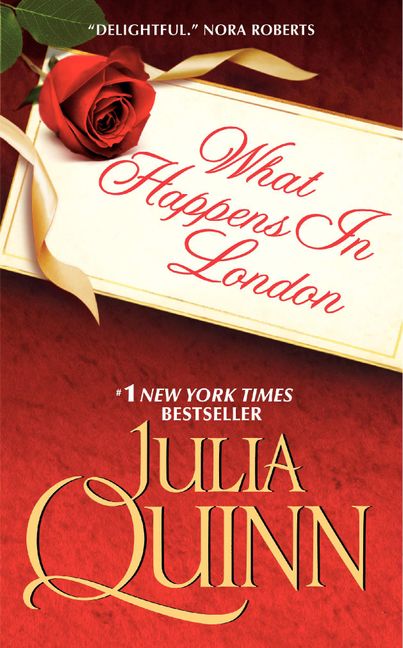 Title: What Happens in London
Author: Julia Quinn
Series: Bevelstoke #2
Rating Out of 5: 5 (I will read this again and again and again)
My Bookshelves: Historical romance, Regency romance
Dates read: 10th – 11th July 2020
Pace: Medium
Format: Novel
Publisher: Avon
Year: 2009
5th sentence, 74th page: "I thought you'd stopped counting."
Rumors and Gossip…
The lifeblood of London…
When Olivia Bevelstoke is told that her new neighbor may have killed his finacee, she doesn't believe it for a second, but, still, how can she help spying on him, just to be sure? So she stakes out a spot near her bedroom window, cleverly concealed by curatins, watches, and waits… and discovers a most intriguing man, who is definitely up to something.
Sir Harry Valentine works for the boring branch of the War Office, translating documents vital to national security. He's not a spy, but he's had all the training, and when a gorgeous blonde begins to watch him from her window, he is instantly suspicious. But just when he decides that she's nothing more than an annoyingly nosy debutante, he discovers that she might be engaged to a foreign prince, who might be plotting against England. And when Harry is roped into spying on Olivia, he discovers that he might be falling for her himself…
From her first appearance in The Secret Diaries of Miss Miranda Cheever, I fell a little in love with Olivia. There is just something humorous, witty and intriguing about the beautiful girl who can't keep her impulses to herself. So when I realised that the next novel in this trilogy was about her, and started with her spying on her neighbour… I was completely swept away. And intrigued. And just generally in my happy place…
I was kind of floored by the "bad guy" in this story at the end. In fact, as I'm reading more and more Julia Quinn stories, I was surprised that there truly was a "bad guy". Normally the people who get in the way of a good happily ever after moment in her stories (the ones that I've read thus far anyway) are the two romantic leads themselves. So when someone else gets in Olivia's way… I was pleasantly surprised. I love when an author I've been reading a lot of is able to completely surprise me. There is just something all that much more exciting about such an act.
One of my favourite aspects of this novel was the spy angle. The war with the French and Napoleon are mentioned frequently in many of Quinn's regency romances – but I've never read one that features spying and Russian. I also just loved the Russian spin and the fact that the lead male, Harry, is in love with the language. It made me weirdly keen to go out and learn Russian of all languages. That extra bit of subterfuge made this all that much more difficult to put down…. Especially when I was curled up with a nice cup of tea in my onesie whilst reading this…
Even Miranda managed to make an appearance in this book. Although, not enough of one to truly make me happy in this. She is mentioned frequently, and it makes me imagine a reality in which Turner, Miranda, Olivia and Harry all continue to live happily and a little less than conservatively… it definitely meant that I finished this book on a huge, happy smile.