The Black Swan by Susan Wade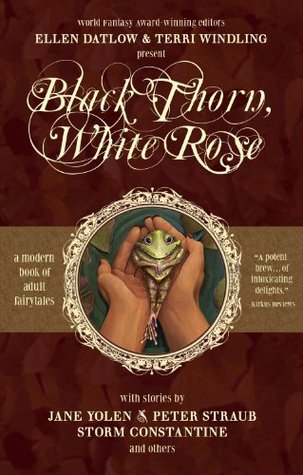 Title: The Black Swan
Author: Susan Wade
In: Black Thorn, White Rose (Ellen Datlow & Terri Windling)
Rating Out of 5: 5 (I will read this again and again and again)
My Bookshelves: Fairy tales, Retellings
Dates read: 25th May 2020
Pace: Fast
Format: Short story
Publisher: Prime Books
Year: 1994
5th sentence, 74th page: One night she was so late returning that alll the stable lads had gone and I had been excused from my duties at table – I had progressed to such responsibilities only that summer – and gone to my loft for the night.
All he ever wanted to do was help her win her heart's desire. But even once she accomplishes that, things don't go quite as planned. The unveiling of the beautiful Black Swan.
One of the suckiest things about being a woman is this whole idea around beauty – what makes a woman beautiful. What the expectations of beauty are. So on and so forth. It's kind of horrible and seriously annoying. And this story is a great example of just how wrong things can go when we are constantly told that what and who we are just isn't good enough.
I love that this short story / retelling of a classic fairy tale has the more traditional tragic ending. There is no joy and happiness in this story. There is nothing like and fluffy. Rather, it is just a whole heap of tragedy all bundled up into one tale. It really makes your heart bleed. And, the very final scene makes an amazing final scene for the ending of this collection…
The Black Swan is a gorgeous little short story. It also has a fantastic voice as a narrator. I love that there is so much foreshadowing for future tragedy throughout. And there's this constant commentary on what a beauty the woman is, before she undergoes her transformation. And just a genuine wonder and concern as to why she would go through such a horrible thing when she is already wonderful and perfect as she is. Something I think we all need to remember.
Book Review Black Thorn White Rose Fairy tales Retellings Susan Wade