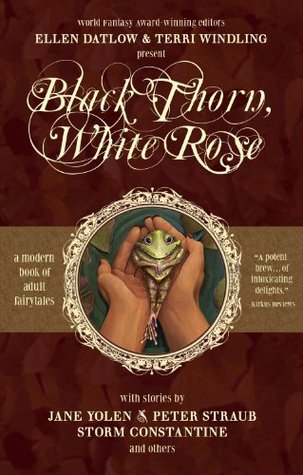 Title: The Sawing Boys
Author: Howard Waldrop
In: Black Thorn, White Rose (Ellen Datlow & Terri Windling)
Rating Out of 5: 3.5 (Liked this)
My Bookshelves: Fairy tales, Music, Retellings
Dates read: 15th May 2020
Pace: Slow
Format: Short story
Publisher: Prime Books
Year: 1994
5th sentence, 74th page: It was well into the afternoon.
They're a surprising music group. One which will take all of the competitors by surprise.
I didn't get hugely into this short story, but it was quaintly enjoyable. There was just something about it that felt comfortable and familiar. Although, I'm still not quite sure which fairy tale this was based on…
I love the idea of the saw boys as musicians. That the underdogs and those whom are generally considered as "tough" are the men who make some really nice music and ?I think? win the day. Like I said, I didn't hugely get into this story, so it's hard to recall the details when I'm writing this review.
As a short, nice little break from life. This is a great break. As something that I will read again. Maybe not. It's the kind of story that you enjoy while reading it, but don't really remember afterwards. And honesty, there is nothing wrong with that.