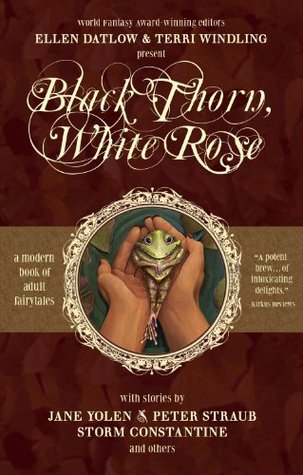 Title: Godson
Author: Roger Zelazny
In: Black Thorn, White Rose (Ellen Datlow & Terri Windling)
Rating Out of 5: 4.5 (Amazing, but not quite perfect)
My Bookshelves: Death, Family, Fantasy
Dates read: 17th May 2020
Pace: Slow
Format: Short story
Publisher: Prime Books
Year: 1994
5th sentence, 74th page: I keep it in my pocket.
Morrie is not your average godfather. And he's not one that you should cross… until David finds a way.
This story seriously made me think about a Discworld novel. I THINK it was Mort. The personification of death, his presence in a young man's life and just the general humour which comes with such a story. Alright, it also painted death as somewhat cruel and petty. But mostly, I really enjoyed the light humour which wove it's way through this short story.
I vaguely remember the original fairy tale upon which this short story was based. And I'm fairly positive it didn't have the same happy ending that this one had. Instead of being a horrible, cruel ending… there was a nice sense of life coming full circle and the happiness of family being completed. I actually really liked that this had a happier ending… it was a nice change to some of the other fairy tales in the Black Thorn, White Rose collection.
This short story is about death, life and, sometimes risking it all because you love someone. It's a good short story that left me feeling happy and complete at the end of the story. I actually kind of loved this tale, and the more I think about it, the more I love it.