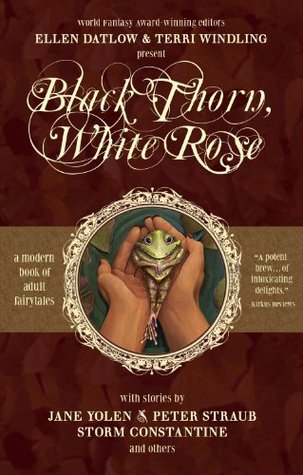 Title: Granny Rumple
Author: Jane Yolen
In: Black Thorn, White Rose (Ellen Datlow & Terri Windling)
Rating Out of 5: 5 (I will read this again and again and again)
My Bookshelves: Fairy tales, Retellings
Dates read: 12th May 2020
Pace: Slow
Format: Short story
Publisher: Prime Books
Year: 1994
5th sentence, 74th page: Story tells us that the little devil, the child stealer, the black imp was thwarted.
A different take on an old classic. And somehow, so much more believable.
As always, I seriously enjoyed Yolen's style of writing in this short story. There is always this sense of humour and wit that works its way into her writing. However, this time it wasn't so overt… but mostly covert and intense. And seriously, seriously witty. Particularly when it's a story based around Rumpelstiltskin…
Although the beginning of this story starts with an amazing dose of wit and humour, it does quickly become toned down. Quickly changes to a story that hits you a lot harder in the heart than was expected. Ending, this story also left you with a seriously powerful message that keeps you contemplating the "truth" behind the fairytales.
The fact that this story uses Jews in a past setting when they were villainised, and I'm actually currently researching hate crimes… it seems like fantastic timing. It's awful, tragic and seriously hurtful. Made me think again and again of the minorities which are still viewed in the villainous role that we place characters like Rumpelstiltskin. Which I think was the entire point of this short story…