Tattercoats by Midori Snyder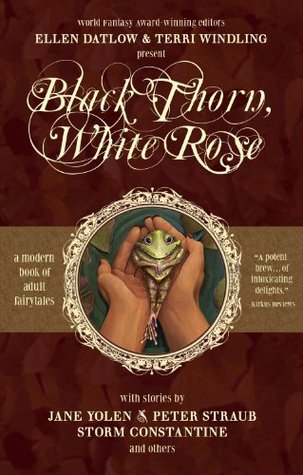 Title: Tattercoats
Author: Midori Snyder
In: Black Thorn, White Rose (Ellen Datlow & Terri Windling)
Rating Out of 5: 5 (I will read this again and again and again)
My Bookshelves: Fairy tales, Retellings
Dates read: 11th May 2020
Pace: Fast
Format: Short story
Publisher: Prime Books
Year: 1994
5th sentence, 74th page: I think I shall retire now.
A fantastic retelling of a classic fairy tale… with a more adult spin.
This is one of those retellings that is reminiscent of a number of fairy tales that I've read. Which was a nice journey. It's definitely a fairy tale / retelling that I have always enjoyed, so I was excited to read this. And, boy, I wasn't disappointed by this retelling. Not only was it a great fantasy retelling, but it was also a great tale about rediscovering your love and your life after that initial honeymoon period is over… something that I think is often overlooked in many stories we read.
The story of the woman with the three dresses and the way in which she wins her loves' heart is one that I seriously treasure. Especially after reading North Child. This isn't quite that story, but it does have those great echoes, and it is the story about her daughter. The daughter who also found her own happily ever after. But, after childbirth and years being comfortable with your spouse, things are less romantic and infatuated. Which is kind of sad, but something I think that everyone who ahs been in a long term relationship experiences. The woman in this uses the gifts of the past that her mother gave her to set about recapturing her husbands' attention and affections. Although, the responsibility for this is not just on her, she isn't the only one who has let her relationship slip, and she's not the only one who decides to fight to get it back.
At the beginning of this story, I loved the way in which the woman drew her husband back into her arms. Then, towards the middle I started to get a little worried. She was happy because she had her husband back, but then, he didn't know it was her… but, the ending made all of this became obsolete and there was a happily ever after. And the awkward feelings went away.
Book Review Black Thorn White Rose Fairy tales Midori Snyder Retellings