The Goose Girl by Tim Wynne-Jones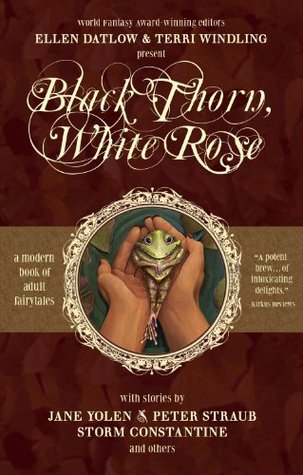 Title: The Goose Girl
Author: Tim Wynne-Jones
In: Black Thorn, White Rose (Ellen Datlow & Terri Windling)
Rating Out of 5: 4 (Really good read!)
My Bookshelves: Fairy tales, Retellings
Dates read: 7th May 2020
Pace: Slow
Format: Short story
Publisher: Prime Books
Year: 1994
5th sentence, 74th page: But I responded passionately.
There's always two sides to a story… including the one about the Goose Girl.
The Goose Girl is one of those fairy tales where I really, really loved the original story. The idea of the villain in the story pronouncing her own death… well, of course it intrigued me immediately. What I didn't expect was that I would love a story in which the villain really wasn't the villain… it was all just an accident of fate and an intriguing story. One that had a seriously tragic ending… but was still very, very good.
This was a very dark villain version of a classic fairy tale. Sometimes these retellings from the villains' point of view make you feel sympathy… instead, this short story just made me feel uncomfortable and unsettled with all of the characters in the original. There was almost no sympathy for anyone. It was just a tale of tragedy after tragedy. One that never had a happy ending or a happily ever after. Which is somehow a lot more like real life…
Only in writing this review have I realised a few more things about this short story that really hadn't jumped out at me before. But to write them in my review would be giving something away… so you'll just have to read it and then see if you are quicker than me in realising what the extra layer of secrets are!!!
Book Review Black Thorn White Rose Fairy tales Retellings Tim Wynne-Jones