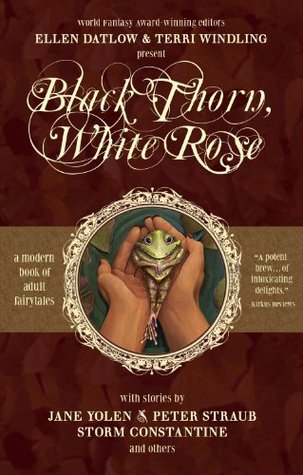 Title: The Brown Bear of Norway
Author: Isabel Cole
In: Black Thorn, White Rose (Ellen Datlow & Terri Windling)
Rating Out of 5: 4.5 (Amazing, but not quite perfect)
My Bookshelves: Fairy tales, Retellings
Dates read: 26th April 2020
Pace: Medium
Format: Short story
Publisher: Prime Books
Year: 1994
5th sentence, 74th page: Perhaps I only loved New York because there were so many people there from somewhere else.
She had a penpal in Norway, but one night, when she betrayed his trust, everything disappeared. A long trip later, and she finally finds out what it means to be in love.
The story of East of the Moon, West of the Sun is one of my favourite lesser known fairy tales. It's what the story of North Child is based on. So finding another short story retelling of this was incredibly exciting and seriously beautiful. Especially when the journey starts in New York City with a teenager on the cusp of adulthood, and ends in Europe with two people who have finally found what it is to be an adult…
If the introduction to this story didn't mention that it was a coming of age tale, then I possibly wouldn't have noticed. However, as the story unfolds, you do begin to recognise the hints of what it truly means t grow up. What it means to understand what love actually is (instead of what we wished it was) and take responsibility for our own actions. Yet, this is done in such a subtle way that it does take a little bit before you truly notice it.
This was a great, sweet and easy read. One that I'm a little disappointed was over. But, it did work perfectly. There is just something so captivating about this modern day coming of age and travelling so very, very far to find the one that you love…