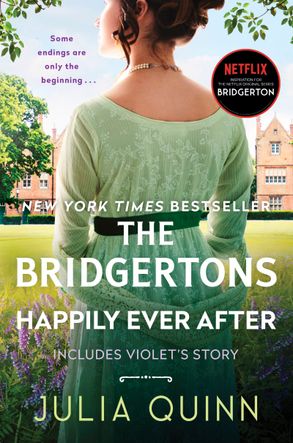 Title: Violet in Bloom
Author: Julia Quinn
Series: Bridgertons #8.75
In: The Bridgertons (Julia Quinn)
Rating Out of 5: 5 (I will read this again and again and again)
My Bookshelves: Historical romance, Regency romance
Dates read: 27th March 2020
Pace: Fast
Format: Short story
Publisher: Avon
Year: 20
5th sentence, 74th page: "Oh, it's a surprise," Edmund said, grinning wolfishly at her from across the carriage.
All of the Bridgertons have found their happily ever afters. But what about the matriarch? Violet? What about her story? Does she find her happily ever after too?
Through the whole series of The Bridgertons, one character continuously shows up and takes centre stage. So I was deliriously excited to read a novella that is all about her… the mother, the caretaker and, quite possibly, the most meddlesome character of all the Bridgertons. It certainly wasn't the kind of story that I was expecting, but it really was a sweet way to completely round out the series. Now the books are all back on my shelves and I look forward to reading them all in the future!
I was expecting this novella to be about Violet and Edmund – their romance and their courtship. And whilst this did make up a decent portion of this story, it really wasn't the centre of it. In fact, this story was about Violet's life. The entirety of her life, both before and after Edmund. It wasn't quite what I wanted. But it was definitely what I needed.
It makes a certain kind of sense that this story isn't just about Edmund and Violet. After all, most of her life actually ends up centring around her children. Which means that most of this story still focuses on them, her grandchildren, her great-grandchildren and her happiness. It kind of makes you want to have your own gaggle of unruly children…