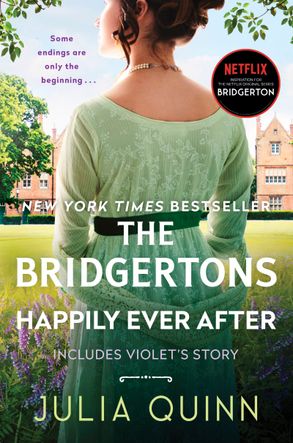 Title: On the Way to the Wedding: The Second Epilogue
Author: Julia Quinn
Series: Bridgertons #8.5
In: The Bridgertons (Julia Quinn)
Rating Out of 5: 5 (I will read this again and again and again)
My Bookshelves: Historical romance, Regency romance
Dates read: 25th March 2020
Pace: Fast
Format: Short story
Publisher: Avon
Year: 2006
5th sentence, 74th page: "It's a happy accident, I assure you," Gregory said.
Gregory and Lucy found their happily ever after. But, with a gaggle of children, how do they figure out what to name each of the children? As always, things aren't quite as simple as they seem.
I like that of all the Bridgerton siblings, it is the last one that seriously wants a whole slew of children. The last sibling who decides to do the same as his mother and have eight children. Which you find out at the end of On the Way to the Wedding. What I didn't know I needed until this Second Epilogue was to find out what they named each of their children. Actually, just coming up with those names seems kind of ridiculous.
Gregory and Lucy weren't necessarily my favourite couple in this series, their Second Epilogue was definitely the most potentially tragic. Where the other seven are filled with happiness, wit and humour, this story definitely didn't have that. Actually, if it wasn't for the fact that I'm getting so used to Quinn's happily ever afters, I would have expected this to end so much worse than it did. I was genuinely scared. But, spoiler alert, it doesn't all end badly.
As the final Second Epilogue of the series, I was kind of pleased that this didn't necessarily have a happy note to it. My only real complaint about romances is that when you find your one and only, things don't always go as planned. So finishing out a series in which all the lives are damn near perfect with the potential to tear everything apart… that kind of worked brilliantly.