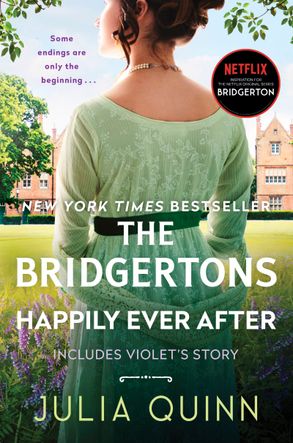 Title: The Bridgertons: Happily Ever After
Author: Julia Quinn
Series: Bridgertons Companion
In: The Bridgertons (Julia Quinn)
Rating Out of 5: 5 (I will read this again and again and again)
My Bookshelves: Historical romance, Regency romance
Dates read: 15th January – 27th March 2020
Pace: Fast
Format: Collection
Publisher: Avon
Year: 2013
5th sentence, 74th page: Off to the side, Colin winced.
Once upon a time, a historical romance author created a family…
But not just any family. Eight brothers and sisters, assorted in-laws, sons and daughters, nieces and nephews (not to mention an overweight corgi) plus an irrepressible matriarch who's a match for any of them… These are the Bridgertons: less a family than a force of nature. Through eight bestselling novels, readers laughed, cried, and fell in love. But they wanted more.
And so the readers asked the author…
What happens next? Does Simon ever read his father's letters? Do Francesca and Michael become parents? Who would win in a Pall Mall grudge match? 88 II Does "The End" really have to be the end? II 8 Now, with The Bridgertons: Happily Ever After, Julia Quinn delivers eight sexy, funny, and heartwarming "2nd Epilogues" plus a bonus story about none other than the wise and witty matriarch Violet Bridgerton herself. So get to know the Bridgertons all over again – because Happily Ever After is a whole lot of fun.
This is a great collection. Although my editions of the full-length novels often included the Second Epilogues, it was nice to have them all in one collection. Particularly since there is an extra novella at the very end that is not included in any other novel. Each and everyone of these stories not only makes you feel as though the story is actually completed, but they also give you happy, tingling feelings that leave a huge smile on your face.
I must admit, that although I loved each and everyone of these tales, it was the first five couples that I truly adored. Maybe because they all had such strong relationships to one another, whereas the last three were not as intimate with their older siblings. Which makes total sense, but the appearances of more than one sibling throughout the other stories meant that I felt far more attached to them than their younger counterparts. Which also meant that I didn't enjoy the final second epilogues quite as much.
I love this collection of tales. There is something about it that completely draws you in and makes you fall in love with the Bridgertons again and again and again. Not only does it give some sense of what happens after happily-ever-after. But it also lets you revisit a world and characters that you have fallen in love with. There is definitely something unforgettable and completely loveable about the slightly insane family and all of those who choose to spend their lives with them…