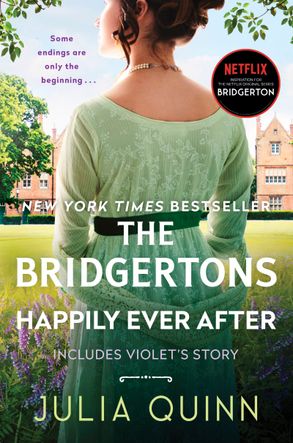 Title: It's In His Kiss – The Second Epilogue
Author: Julia Quinn
Series: Bridgertons #7.5
In: The Bridgertons (Julia Quinn)
Rating Out of 5: 5 (I will read this again and again and again)
My Bookshelves: Historical romance, Regency romance
Dates read: 10th March 2020
Pace: Fast
Format: Short story
Publisher: Avon
Year: 2006
5th sentence, 74th page: "This really should count for something," he murmured.
What happened to the diamonds?
If you've read "It's in His Kiss, " you want to know. Don't miss this charming and passionate addendum, in which Gareth proves that some things get better with age, Hyacinth gains new respect for her mother (with a daughter like Isabella she'd have to, wouldn't she?), and everyone learns that while diamonds are lovely, sometimes tenacity is a girl's best friend.
One of my Mum's favourite things to say to me is "I hope you have a daughter just like you". It's also something that gets said to Hyacinth throughout It's In His Kiss. Which of course means that the second epilogue has to be partially about the daughter she has… who is exactly like her. Just as difficult, contrary and opinionated. I also love the fact that at the very conclusion of It's In His Kiss, Isabella is also the one to solve the big mystery. Fast forward fifteen years and Hyacinth is still driving everyone nuts with her stubbornness.
Reading this short story made me think about To Sir Phillip, With Love: The Second Epilogue. And how much fun the two strong willed cousins would have together. How much havoc they would wreak upon the family. How many circles they would run around everyone… it made me laugh out loud and more than a little dizzy.
Although I absolutely adored that this story was about Hyacinth's daughter being exactly like her. I loved even more that after fifteen years, Hyacinth is still searching for the same treasure. Still stubbornly trying to solve a riddle. And, Isabella not only finds out and gives her Mum the closure she needs, but she also appreciates the love and commitment that both of her parents show to one another. The love and commitment that shines through their everyday lives.