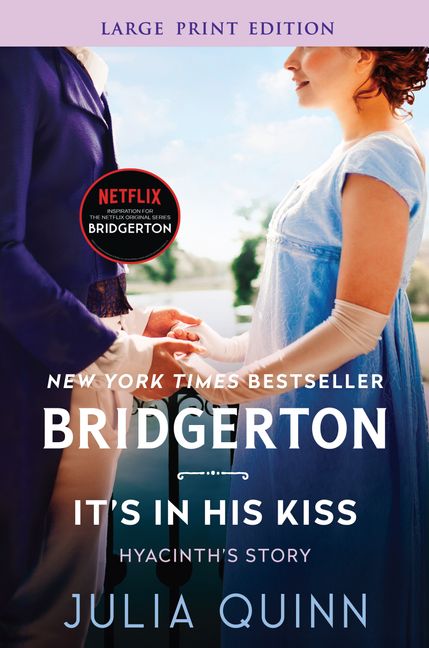 Title: It's In His Kiss
Author: Julia Quinn
Series: Bridgertons #7
Rating Out of 5: 5 (I will read this again and again and again)
My Bookshelves: Historical romance, Regency romance
Dates read: 9th – 10th March 2020
Pace: Medium
Format: Novel
Publisher: Avon
Year: 2005
5th sentence, 74th page: And he isn't the only one.
MEET OUR HERO…
Gareth St. Clair is in a bind. His father, who detests him, is determined to beggar the St. Clair estates and ruin his inheritance. Gareth's sole bequest is an old family diary, which may or may not contain the secrets of his past… and the key to his future. The problem is—it's written in Italian, of which Gareth speaks not a word.
MEET OUR HEROINE…
All the ton agreed: there was no one quite like Hyacinth Bridgerton. She's fiendishly smart, devilishly outspoken, and according to Gareth, probably best in small doses. But there's something about her—something charming and vexing—that grabs him and won't quite let go…
MEET POOR MR. MOZART…
Or don't. But rest assured, he's spinning in his grave when Gareth and Hyacinth cross paths at the annual—and annually discordant—Smythe-Smith musicale. To Hyacinth, Gareth's every word seems a dare, and she offers to translate his diary, even though her Italian is slightly less than perfect. But as they delve into the mysterious text, they discover that the answers they seek lie not in the diary, but in each other… and that there is nothing as simple—or as complicated—as a single, perfect kiss.
Hyacinth stands out pretty strongly in some of the other Bridgertons books. She is pushier, more independent and more outspoken than the rest of the family (which is saying something). And, considering the time in which this story is set… it's interesting to imagine just when and how she is going to find herself a husband… it's hard enough being an outspoken woman in this day and age… let alone Regency London. But, find one she does. And he's just as off-kilter and fun as she is.
As a woman who is intelligent and independent, it took me a long time to find somebody to match with that. Not just someone who would love me for everything that I am, but could also stand toe to toe with me when necessary. I liked that this was a big part of the journey for Hyacinth. There's even a moment of revelation between her and her mother as to how to find a man who can actually challenge her. Not just one that will accept her – but someone that can even occasionally beat her at her own game…
I absolutely adored the mystery throughout this story. The mystery of Gareth's past, his grandmother… there were so many little secrets that were hidden throughout that I just loved trying to tease out and find the answers to. So many little moments that hinted at a great truth. And, although not all of the mysteries were solved at the conclusion of the novel… the adventure and the journey was absolutely fantastic.
Although this wasn't my favourite book thus far in the series, it was my favourite relationship. There is just something about these two characters (and the relationship with Lady Danbury) that had me laughing out loud and feeling incredibly connected to these two characters. Hyacinth is so much more aware and sure of herself than the rest of the women in the series. And Gareth is so much less controlling and witty. Just something about these two that works kind of perfectly…