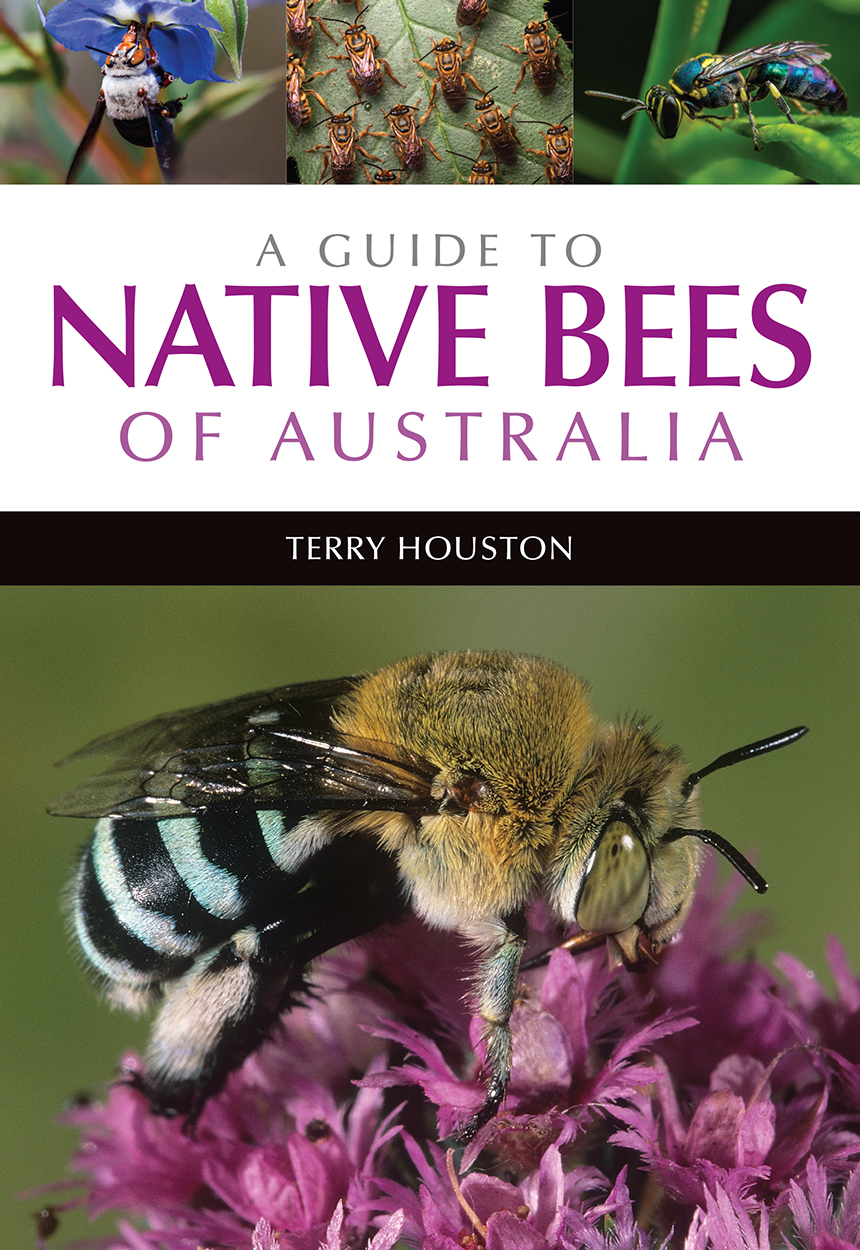 Title: A Guide to Native Bees of Australia
Author: Terry Houston
Rating Out of 5: 5 (I will read this again and again and again)
My Bookshelves: Australian authors, Insects, Non-fiction, Science
Dates read: 16th October – 29th November 2019
Pace: Slow
Format: Non-fictional text
Publisher: CSIRO Publishing
Year: 2018
5th sentence, 74th page: As the bee immatures reach maturity and pupae give rise to adults, the mite nymphs moult to become hypopi and mount their new bee hosts in preparation for being carried out of the brood cells to begin yet another cycle.
Bees are often thought of as yellow and black striped insects that live in hives and produce honey. However, Australia's abundant native bees are incredibly diverse in their appearance and habits. Some are yellow and black but others have blue stripes, are iridescent green or wasp-like. Some are social but most are solitary. Some do build nests with wax but others use silk or plant material, burrow in soil or use holes in wood and even gumnuts!
A Guide to Native Bees of Australia provides a detailed introduction to the estimated 2000 species of Australian bees. Illustrated with stunning photographs, it describes the form and function of bees, their life-cycle stages, nest architecture, sociality and relationships with plants. It also contains systematic accounts of the five families and 58 genera of Australian bees. Photomicrographs of morphological characters and identification keys allow identification of bees to genus level. Natural history enthusiasts, professional and amateur entomologists and beekeepers will find this an essential guide.
This book has been insanely helpful to my understanding and knowledge of native Australian bees. A lot of what I've witnessed in the field was supported and further expanded by this book. Yet, it was also filled with approachable language that even people who don't pursue a PhD would be able to understand. Not something I often find in my science books.
The layout of this book is wonderfully logical. It starts with an overview of Australian bees, starts to go into the specifics of their biology and then, finally, ends with a breakdown of the specifics of each family found within Australia.
There's not much more I can really write about a nonfictional text in an interesting manner. But, suffice it to say that I would be referring to this a lot as I march around the bush in search of pollinators and other interesting invertebrates.