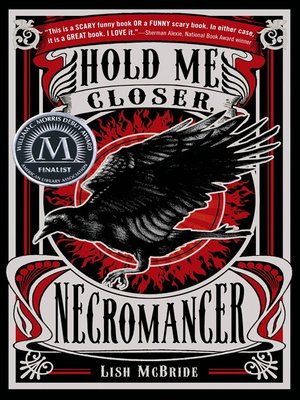 Title: Hold Me Closer, Necromancer
Author: Lish McBride
Series: Necromancer #1
Rating Out of 5: 5 (I will read this again and again and again)
My Bookshelves: Ghosts, Humour, Necromancers
Dates read: 22nd October – 22nd November 2019
Pace: Fast
Format: Novel
Publisher: Square Fish
Year: 2010
5th sentence, 74th page: "How's school going?"
NEC·RO·MAN·CY – conjuring the dead for purposes of magically revealing the future or influencing the course of events
Yeah, you heard me. Conjuring the dead – it sure beats flipping burgers.
Meet Sam, just your average guy rocking that fast-food career.
Enter Douglas, a powerful and violent necromancer. Douglas immediately recognizes Sam as a fellow necromancer – whish is news to Sam! – and Douglas is not happy to have a competitor. Sam is given one option – join forces with Douglas… or else.
Now with only one week to figure out his mysteriously latent powers, Sam needs all the help he can get. Not only does he have an undead friend on his hands and a hot werewolf girl for company, but luckily he lives in Seattle, which has nearly as many paranormal types as it does coffee places. But even with newfound friends, will Sam be able to save his skin and find a way out of Douglas's clutches?
I keep picking this book up and putting it back down. Mostly because I've not been entirely sure if it's what I'm in the mood for. Turns out that this is the kind of book I'm probably always going to be in the mood for. It's funny, witty and supernatural. Filled with fantastic sidekicks and unforgettable characters. The storyline is also intriguing and filled with twists and turns that I hadn't expected. This is also really, really addictive. So maybe don't read it when you have more "adult" things to do… it got me into a little trouble.
The addictive nature of this story is probably why I stopped reading it quite quickly – I have a busy few weeks of work, so getting sucked into an amazing story wasn't high on my list. However, I did read through it really quickly when I set aside a night to actually enjoy myself… once I got into it, I didn't want to stop. Actually, McBride is now most definitely on my favourite authors list. Her Firebug series is on my wish list now for the next time I get the privilege of doing a nice book shop…
McBride brilliantly interweaves Sam's past, future and present together. It has a funny, relaxed, small-town America feel. As he tries to figure out his future, he is also discovering himself, and the past that he never knew existed. Finding out more about what and who his mother is and the ways in which it's affecting his current life. Oh, and there's a friend who is now a talking head, which is absolutely brilliant.
This novel has a larger ensemble than I'm used to in a novel. Normally there's a lead with one faithful sidekick. Instead, Sam has two best friends, a talking head, and a potential love interest in a half werewolf… far less simple. Even the villain isn't quite typical and tends to have some more off-kilter sidekicks. This is also the most paranormally diverse collection of characters that I've had the pleasure to read. Definitely one that I will be sinking my teeth into again and again and again.