Dark Matters by Vicki Pettersson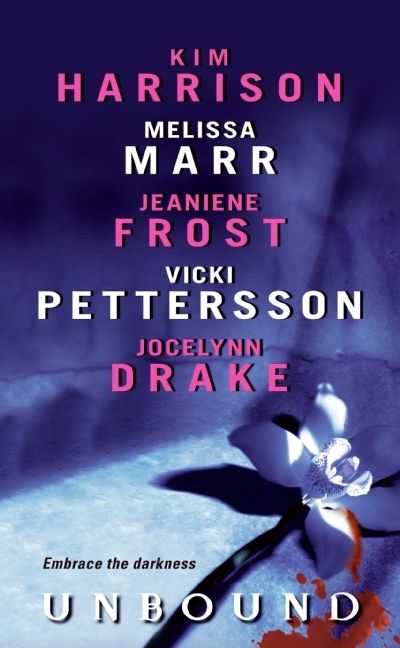 Title: Dark Matters
Author: Vicki Pettersson
Series: Signs of the Zodiac #4.5
In: Unbound (Kim Harrison, Melissa Marr, Jeaniene Frost, Vicki Pettersson & Jocelyn Drake)
Rating Out of 5: 4 (Really good read!)
My Bookshelves: Dark fantasy, Shapeshifters, Urban fantasy
Dates read: 3rd May 2019
Pace: Medium
Format: Novella
Publisher: EOS
Year: 2009
5th sentence, 74th page: "Which means you think that ninety-six percent of what is up here is dark matter.
JJ superhero has illicit affair with Shadow agent Solange.
I still haven't yet had time to sink my teeth into the first Signs of the Zodiac novel. Yet, I seem to keep picking up the novellas and thoroughly enjoying them. And this one was no different. Taking the idea of love and polar opposites and twisting it into a story that was both fun and kind of tragic. Especially when JJ is left at the end, clutching a broken heart and forced to face an unhopeful future.
There is something fun about a tale where total opposites attract. And although mostly this is just slight personality quirks, in Dark Matters, it is actually opposites. Yin and yang. Dark and light. And although you kind of spend a lot of the time hoping that you're not right about the darkness. That this is actually a story about love and destiny. There are so many hints that it's not quite what you want, but enough that keeps you hoping. Which makes the crash at the end of the story all the more bittersweet and powerful.
I can't wait to see where this novella fits into the rest of the Signs of the Zodiac world. And, well, sink my teeth into the novels that are sitting on my shelves, just waiting to be read.
Book Review Dark Fantasy Shapeshifters Signs of the Zodiac Unbound Urban Fantasy Vicki Pettersson