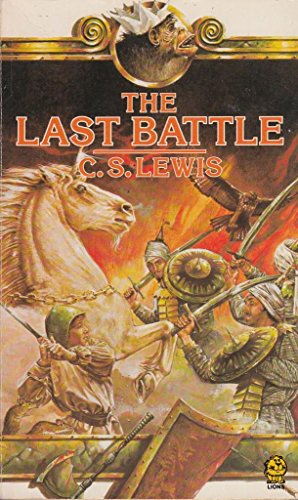 Title: The Last Battle
Author: C.S. Lewis
Series: Chronicles of Narnia #7
Rating Out of 5: 4 (Really good read!)
My Bookshelves: Classics, Easy reading, Fantasy
Dates read: 28th March – 19th April 2019
Pace: Slow
Format: Novel
Publisher: Grafton
Year: 1956
5th sentence, 74th page: I'm on your side, Sire: and on Aslan's.
"To my side, all true Narnians! Would you wait till your new masters have killed you all, one by one?"
It is Narnia's darkest hour. A false Aslan is commanding all Narnians to work for the cruel Calormenes and striking terror into every heart. King Tirian's only hope is to call Eustace and Jill back to Narnia, in an attempt to find the true Aslan and restore peace to the land. But a might battle lies ahead.
The Last Battle is the dramatic conclusion to the seven magical Chronicles of Narnia.
As an ending to a series this book works incredibly well. It helps to tie everything up in a beautiful knot and pretty little bow. As a standalone story, it's not as compellingly engaging as the other books in the Chronicles of Narnia series. Which is probably why it took me a little longer to read than most of the other stories in this series…
The Last Battle is exactly what it sounds – the last battle to be fought in Narnia. The end of days, if you will. It made it kind of sad to finish, it meant the closing of a world and an era. There are no ways in which to return to Narnia now. Which is more than a little heartbreaking. After all, as a kid I always checked every wardrobe I came across to get to that special world I had dreamt so much about.
Lucy is still my favourite character in all of the Chronicles of Narnia tales. There is something about her sweetness, her faith and her ability to love everyone that makes you kind of want to give her a great, big cuddle. Don't get me wrong, I would never want to be her friend, she's a little too nice… but as a character in a novel, she is just brilliant. So it was incredibly nice to find her returning to the series, albeit for a short while. Jill and Eustace just aren't as relatable and loveable… maybe because I only met them as an adult, but I met Lucy when I was a young girl.