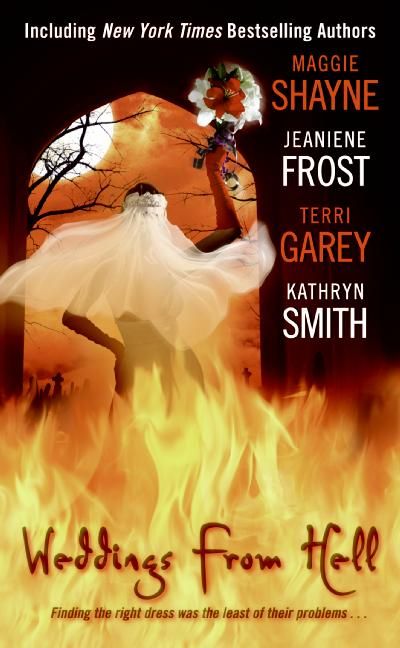 Title: Ghouls Night Out
Author: Terri Garey
Series: Nicki Styx #2.5
In: Weddings From Hell (Maggie Shayne, Jeaniene Frost, Terri Garey & Kathryn Smith)
Rating Out of 5: 5 (I will read this again and again and again)
My Bookshelves: Dark fantasy, Ghosts, Urban fantasy
Dates read: 26th March 2019
Pace: Fast
Format: Novella
Publisher: Harper Fiction
Year: 2008
5th sentence, 74th page: Unfortunately, Aunt Nadine, who'd been fussing over the bridal bouquets, was not about to let me off the hook.
Nicki Styx sees dead people. Worse, she's a replacement bridesmaid forced to wear a hidesouly yellow dress. If only the chatty ghost of the original bridesmaid will just leave her alone, Nicki may survive this ceremony yet.
So I maybe shouldn't have read this novella right before going to bed. Alone. Normally urban fantasy tales don't really bother me right before bed. Because, well, they're so obviously make believe. But, this one involves a dead woman who was sexually attacked right before being killed off. That hit a little too close to home… and made it a little difficult to get to sleep (even with my giant dog sleeping across my feet).
This is one of those stories that sinks beneath your marrow and lingers for a long while. In the best way possible. It is fun and adventurous, with a healthy dose of revenge and action. There's also a little romance thrown in for good measure, which just made me happy and tingly on the inside.
Although this was a bit of a whodunnit / find peace for the dead girl kind of story, I really liked the secondary storyline of a honky-tonk redneck wedding. It's a reminder that you don't get to choose your family, so you may as well jump in and enjoy their company. Even if it does make you kind of uncomfortable…