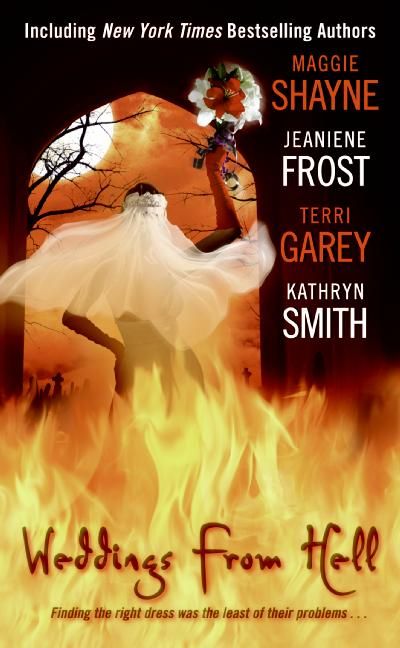 Title: Happily Never After
Author: Jeaniene Frost
Series: Night Huntress #1.5, Night Huntress Universe #1.5
In: Weddings From Hell (Maggie Shayne, Jeaniene Frost, Terri Garey & Kathryn Smith)
Rating Out of 5: 5 (I will read this again and again and again)
My Bookshelves: Paranormal fantasy, Urban fantasy, Vampires
Dates read: 21st – 22nd February 2019
Pace: Fast
Format: Novella
Publisher: Harper Fiction
Year: 2008
5th sentence, 74th page: Isa went back to the living room and sat on the couch, scowling.
To save her brother, Isabella is about to reluctantly walk down the aisle with Mr. Dangerously Wrong.. unless Chance, a dashing vampire, can derail this wedding of the beauty to the beast.
My best friend is getting married this year. And I'm so happy for her, but I'm kind of loving a collection of novellas with the theme "weddings from hell". I hope none of her big day ends up like that… but it's still kind of fun / funny to read these paranormal romance stories. Especially one in which the bride doesn't want to be married and gets her own beautiful revenge for being forced into such a situation…
Isa is exactly the kind of heroine that I tend to love – independent, strong, kind of protective and with just the right amount of sass. Which really comes through in the end of the story (in case you can't tell, I love how this story ended). Isa is able to stay in control of who she is, even when placed in a situation that I would find incredibly and intensely horrifying.
I might have loved Isa, but I love her grandmother far more. She is ten times sassy, far more pithy and had me laughing out loud. Especially when she constantly shocks her poor granddaughter with her saucy-ness. There is just something great about having such a spicy old woman in a storyline that is about a romance between a vampire and human.