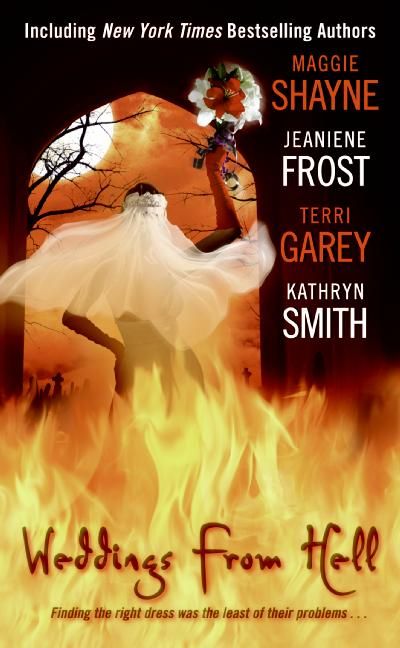 Title: The Wedding Knight
Author: Kathryn Smith
Series: Brotherhood of Blood #3.5
In: Weddings From Hell (Maggie Shayne, Jeaniene Frost, Terri Garey & Kathryn Smith)
Rating Out of 5: 5 (I will read this again and again and again)
My Bookshelves: Historical romance, Paranormal romance, Vampires
Dates read: 27th March 2019
Pace: Fast
Format: Novella
Publisher: Harper Fiction
Year: 2008
5th sentence, 74th page: Neither Eliza nor I want to see anything happen to either of us.
Payen Carr has reappeared at a most inconvenient time: on the eve of Violet's wedding. But Payen desperately needs her help, for his immortal life is suddenly at stake… and Violet's mortal one as well.
This was a bit slow to start with. A little too typical and vampire-y. A theme that I don't completely love, and one that I do tend to take quite a while to warm to. Luckily for me, this does heat up pretty quickly and it sucked me right into the storyline and pages.
I really enjoyed the Victorian era setting in which this story takes place. The fact that it acts as a backdrop for a strong, independent woman who is quite determined to get what she wants (once she figures out just what that is) makes it an even better timeframe to place it in.
I've been a little obsessed with historical romances lately, and more than a little fascinated by secret orders. Both of these play heavily on the storyline, and now I can't wait to find the rest of the books in this series and find them a nice, snug place on my overflowing bookshelf.