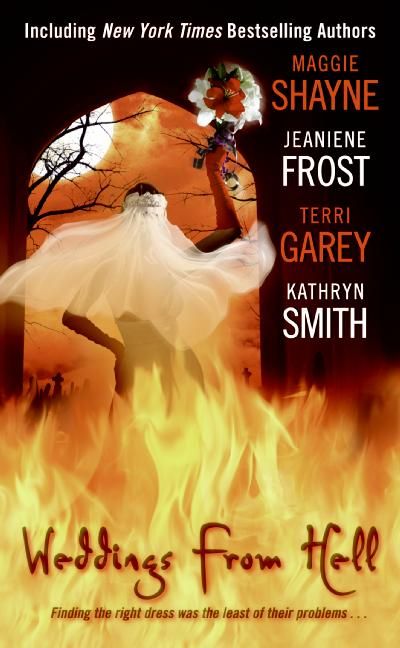 Title: Till Death
Author: Maggie Shayne
In: Weddings From Hell (Maggie Shayne, Jeaniene Frost, Terri Garey & Kathryn Smith)
Rating Out of 5: 5 (I will read this again and again and again)
My Bookshelves: Contemporary romance, Family, Scottish romance
Dates read: 5th – 14th February 2019
Pace: Medium
Format: Novella
Publisher: Harper Fiction
Year: 2008
5th sentence, 74th page: He was Ian.
Years ago, a heartbroken McLellan witch placed a curse on the would-be brides of her family. But Kira McLellan doesn't believe in curses. Then she falls in love with Ian Stewart and is determined to break the spell…. Or die trying.
I absolutely loved this novella. It had everything in it that makes my heart go… romance, curses, and a woman that is not happy to take things as status quo…
From the very beginning of the story, it is obvious that Kira is a little lost and unsure of her role in the world. And, since this is a paranormal romance collection of stories about weddings, you knew that she was going to find her man… and probably get married at some point throughout. It's a little cliché that she doesn't really feel complete until she finds her partner, but it was still just a cute and easy read. One that had me smiling at the end.
Although this is a pretty predictable cliché of a story, I still really enjoyed it. Throwing in an ancient curse and reconnecting with family members that have never been met just made it all the more engaging, not to mention entertaining. I always enjoy a good romance, but one with a little extra spice and challenge thrown in works even better…