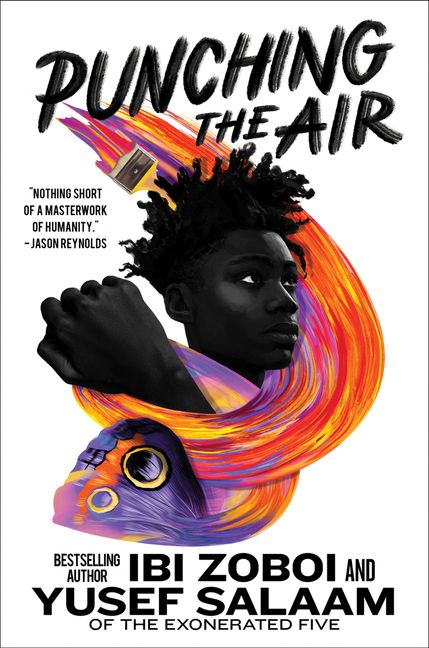 Title: Punching the Air
Author: Ibi Zoboi & Yusef Salaam
Rating Out of 5: 5 (I will read this again and again and again)
My Bookshelves: Contemporary, Poetry, Race
Dates read: 4th – 5th April 2021
Pace: Slow
Format: Novel
Publisher: Harper Collins
Year: 2020
5th sentence, 74th page: To take my mind off things for a little while, I said
The story that I thought
was my life
didn't start on the day
I was born
Amal Shahid has always been an artist and a poet. But even in a diverse art school, he's seen as disruptive and unmotivated by a biased system. Then one fateful night, an altercation in a gentrifying neighbourhood escalates into tragedy. "Boys just being boys" turns out to be true only when those boys are white.
The story that I think
will be my life
starts today
Suddenly, at just sixteen years old, Amal's bright future is upended: he is convicted of a crime he didn't commit and sent to prison. Despair and rage almost sink him until he turns to the refuge of his words, his art. This never should have been his story. But can he change it?
This is a powerful and poignant story. It is intense, impossible to look away from and the kind of tale that will honestly make you cry. There is no other way to describe it – you will have so many of the feelings that you probably won't know what to do. Or at least, that's how I felt when I was reading this.
I didn't realise that this was a poetry collection when I first bought it. In fact, I was completely thrown by this fact when I first opened the novel. I was expecting prose. Which honestly ended up being amazing. There is something about poetry that feels so much more emotional to me and reading this tale through poems… it tied itself to my heart strings just that much quicker and tighter.
My heart spent the entire time that I was reading this novel just breaking. Not only because of the amazing emotions that are put forth by this story, but also just the story itself. It is based on true events to a degree, partially written by one of the boys that it happened to… how could your heart not slightly start to break while reading this?
For those who don't know, Yusef Salaam was one of the "When They See Us" boys, and it is his emotion that I think lent an extra layer of pain and wow to this story. It's his words that make me want to reach through the pages of the novel and just give the poor boy a gigantic hug.
This is a raw and powerful story. And one that is honestly truly horrifying. Even if it is one of my favourite recent reads.