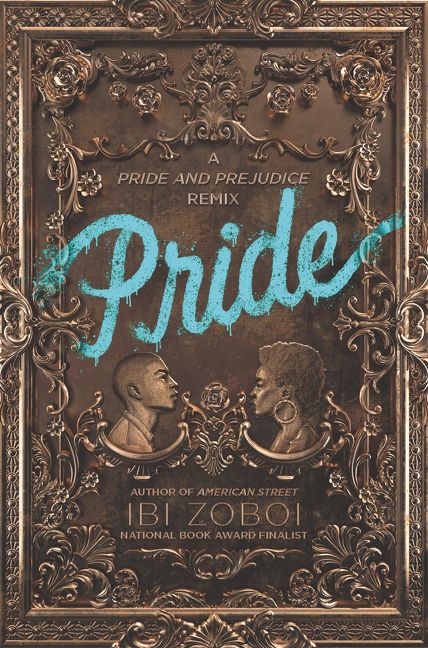 Title: Pride
Author: Ibi Zoboi
Rating Out of 5: 5 (I will read this again and again and again)
My Bookshelves: Contemporary, Retellings, Young adult
Dates read: 25th – 26th July 2019
Pace: Medium
Format: Novel
Publisher: Balzer + Bray
Year: 2018
5th sentence, 74th page: She grabs her ball from beneath the bench and starts passing it between her hands.
Zuri Benitez has pride.
Brooklyn pride, family pride, and pride in her Afro-Latino roots. But pride might not be enough to save her rapidly gentrifying neighborhood from becoming unrecognizable.
When the wealthy Darcy family moves in across the street, Zuri wants nothing to do with their two teenage sons, even as her older sister, Janae, starts to fall for the charming Ainsley. She especially can't stand the judgmental and artogant Darius. Yet as Zuri and Darius are forced to find common ground, their initial dislike shifts into an unexpected understanding.
But with four wild sistsers pulling her in different directions, cute boy Warren vying for her attention, and college applications hovering on the horizon – Zuri fights to find her place in Bushwick's changing landscape or lose it all.
In this timely update of Jane Austen's Pride and Prejudice, critically acclimaed author Ibi Zoboi skillfully balances cultural identity, class, and gentrification against the heady magic of first love in her vibrant reimagining of this beloved classic.
Pride and Prejudice is one of my absolute favourite classics. It's the classic that I go to again anda gain when I want to reread something soothing. Actually, it's the book I probably pick up about once a year when I need my fix. So when I found out that there's a contemporary retelling of this story which features a Dominican-Haitian girl on the cusp of adulthood, applying for colleges… well, I bought it immediately.
It was completely impossible to put this story down. Even though I knew pretty much what was going to happen, I looked forward to finding out how Zoboi was going to adjust the storyline to suit her needs. Particularly when the greater issues of race, identity and the identity of the neighbourhood are all explored alongside a well-loved classic. It meant that I was sucked in as if this was an entirely new storyline – because, for me, an Australian with very few experiences of these issues, it was an entirely new world and story that I was being whisked away to.
I was honestly expecting a story that explored some of the issues of racism. And, although this did in a slight way, it was more about pride in identity. Alright, Zuri's pride almost gets her in a lot of trouble, but there is also an intense pride in who she is and where she comes from. Actually, this pride in identity and awareness of her cultural history inspired a little jealousy. I've never really had any awareness of my own family's cultural history. Yet, this pride also bought up issues of first perceptions and stereotypes. The ways in which some people see a certain cultural way of being and decide that it is "wrong". And this worked in both ways – not only towards Zuri, but also in her attitudes towards the Darcys.
This is the second book I've read in under a week that deals with the very cusp of adulthood. That moment when you are just about to leave high school and step out on your own for the first time. I loved the open ended-ness of this. Yes, Zuri and Darius look like they'll get a happily ever after, but they are also only teenagers. And there is no moment of everything being set in stone – rather it is about the hope for the future and an acceptance of each other in a way that makes you think they might just make it when not many others do…