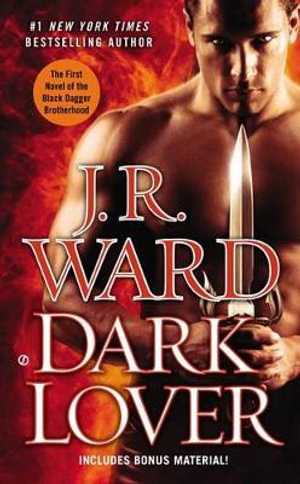 Title: Dark Lover
Author: J.R. Ward
Series: Black Dagger Brotherhood #1
Rating Out of 5: 2.5 (Readable, but not worth reading again)
My Bookshelves: Erotica, Paranormal romance, Vampires
Dates read: 29th August – 5th September 2021
Pace: Slow
Format: Novel
Publisher: Berkley
Year: 2005
5th sentence, 74th page: Getting him out of a facility against medical advice was always a struggle.
The only purebred vampire left on the planet and the leader of the Black Dagger Brotherhood, Wrath has a score to settle with the slayers who killed his parents centuries ago. But when his most trusted fighter is killed – orphaning a half-breed daughter unaware of her heritage or her fate – Wrath must put down his dagger and usher the beautiful female into another world.
Racked by a restlessness in her body that wasn't there before, Beth Randall is helpless against the dangerously sexy man who comes to her at night with shadows in his eyes. His tales of the Brotherhood and blood frighten her. Yet his touch ignites a dawning new hunger – one that threatens to consume them both…
I really, really wanted to like this novel. It's got such a good rep and I've heard it spoken of multiple times… but I just couldn't quite get into it. I gave it my nor.al 150 pages before realising that I had absolutely no inclination to read anymore. Which rarely happens, normally I'll at least skim to see how the story turns out.
For me, a big part of not getting super involved in this story was the fact that I just couldn't feel attached to the characters. Beth and Wrath did not having anything about them that drew me in. I didnt dislike them, I didn't like them, I just nothinged them.
In the future I'll probably give this book another try. But for now… no strong feelings either way.