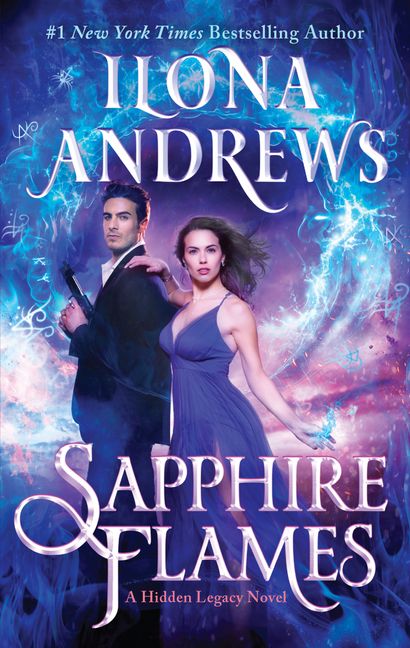 Title: Sapphire Flames
Author: Ilona Andrews
Series: Catalina Baylor Trilogy #1, Hidden Legacy #4
Rating Out of 5: 5 (I will read this again and again and again)
My Bookshelves: Magic, Paranormal romance, Romantic suspense, Strong women
Dates read: 4th – 31st March 2021
Pace: Fast
Format: Novel
Publisher: Avon
Year: 2019
5th sentence, 74th page: It wasn't a question, but I answered it anyway.
From #1 New York Times Bestselling Author Ilona Andrews comes an enthralling new trilogy set in the Hidden Legacy world, where magic means power, and family bloodlines are the new currency of society…
In a world where magic is the key to power and wealth, Catalina Baylor is a Prime, the highest rank of magic user, and the Head of her House. Catalina has always been afraid to use her unique powers, but when her friend's mother and sister are murdered, Catalina risks her reputation and safety to unravel the mystery.
But behind the scenes powerful forces are at work, and one of them is Alessandro Sagredo, the Italian Prime who was once Catalina's teenage crush. Dangerous and unpredictable, Alessandro's true motives are unclear, but he's drawn to Catalina like a moth to a flame.
To help her friend, Catalina must test the limits of her extraordinary powers, but doing so may cost her both her House – and her heart.
This book is just as amazing, wonderful and phenomenal as all of the other Andrews books. There is just something wonderful about the writing that makes it almost impossible to put down the book from the very beginning. Something that draws me in and leaves me grinning like a fool. Each and every time.
You got a bit of an introduction to Catalina in Diamond Fire, but it isn't until Sapphire Flames that you really get a feel for her. I mean, what would it be like to constantly have to hide who you are so that you don't bespell anyone? Catalina's power seems more like a curse to me and one that made me incredibly sad. Although, I am seriously looking forward to finding out more about how it will evolve as the series continues… I mean, there are so many hidden depths in these books…
Throughout this story, my heart broke for Catalina multiple times. Not just because of her power, but because she's trying to go against her nature constantly. That her love for Alessandro is not unrequited like she thinks but is definitely going to hurt them both in the future. Then, there are the family dynamics which also make everything difficult. I mean, seriously, how much pain can one girl go through?
Alessandro is a very intriguing lead character. A total enigma, and, like Catalina, I can't wait to see how his powers work. Plus, he's obviously not an assassin, and he has a mission. But I'm just not quite sure about the ins and outs of this. It makes me itch to pick up Emerald Blaze. I just need to finish a few of the books that I'm currently reading though.
Then, to top off all of the mystery in this story – there is a weird connection to Linus. I have a few guesses, but I can't wait for yet another mystery to unfold as Catalina battles the new threat to the societies and families in Hidden Legacy.