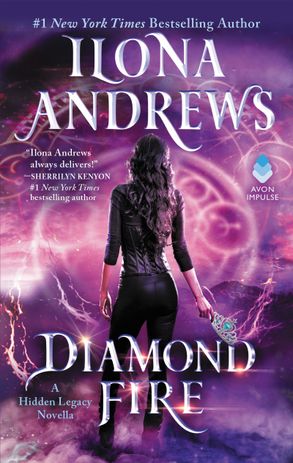 Title: Diamond Fire
Author: Ilona Andrews
Series: Hidden Legacy 3.5#, Nevada Baylor Trilogy #3.5
Rating Out of 5: 5 (I will read this again and again and again)
My Bookshelves: Magic, Paranormal romance, Romantic suspense, Strong women
Dates read: 26th June 2020
Pace: Medium
Format: Novella
Publisher: Avon
Year: 2018
5th sentence, 74th page: Arabella was still in school, and today she was crash-writing a two-thousand-word essay, which was assigned to her a month ago and which she had started this morning.
Nevada Frida Baylor and Connor Ander Rogan cordially invite you to join their wedding celebration. Summoning, weather manipulation, and other magical activities strictly forbidden.
Catalina Baylor is looking forward to wearing her maid of honor dress and watching her older sister walk down the aisle. Then the wedding planner gets escorted off the premises, the bride's priceless tiara disappears, and Rogan's extensive family overruns his mother's home. Someone is cheating, someone is lying, and someone is plotting murder.
To make this wedding happen, Catalina will have to do the thing she fears most: use her magic. But she's a Baylor and there's nothing she wouldn't do for her sister's happiness. Nevada will have her fairy tale wedding, even if Catalina has to tear the mansion apart brick by brick to get it done.
I absolutely loved this novella. It was the perfect glimpse into Nevada and Connor's happily ever after and the perfect introduction to Catalina. A great little bridging novella that let you know that Nevada and Connor got their happily ever after. But also written in Catalina's voice, so you immediately began to fall for her, as you said goodbye to Nevada's voice and welcome a whole new trilogy.
One of the things that I enjoyed about the Kate Daniels series was that you got to read from different characters points of view in the different novellas and short stories. This isn't quite the same as it effectively ends one trilogy and begins another – but it does beautifully change the tone of narration. I don't know many authors who can continue on in the same world and reality, but completely change the tone of narration. And that is done seamlessly in this novella. To the point that it starts in Nevada's voice, and ends in Catalina's.
Not only is this a great bridging novella, but it is also the perfect little cozy mystery feeling. There is a mystery running through the pages that isn't quite life or death. But, whilst you are getting introduced to the different characters, you're also wondering who stole the tiara. And why. And what other secrets are being hidden in Rogan's family…. All things you really should find out… by reading this fantastic novella.