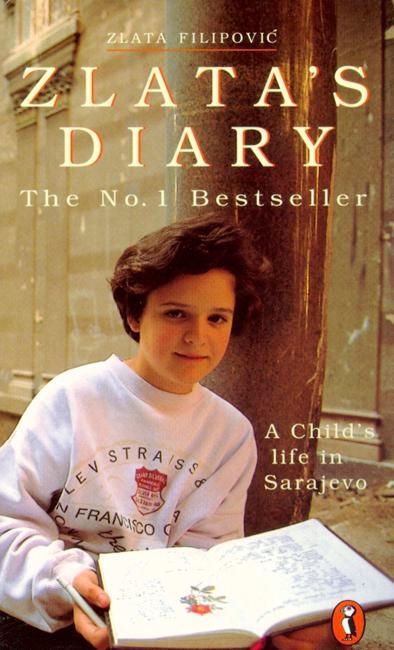 Title: Zlata's Diary
Author: Zlata Filipovic
Rating Out of 5: 4 (Really good read!)
My Bookshelves: Biographies, Memoirs, War
Dates read: 25th – 26th March 2021
Pace: Slow
Format: Novel
Publisher: Puffin Books
Year: 1993
5th sentence, 74th page: We don't think about the shelling or the war.
I'm trying to concentrate so that I can do my homework (reading) but I simply can't. Something is going on in town. You can hear gunffire from the hills!
This entry in Zlata's diary in April 1992 shows how the war draws relentlessly closer to her hom ein Sarajevo. When she starts her diary, Zlata tells of her normal, happy life with her family and friends. But soon they are fighting to survive. Zlata's very personal accoutn is a vivid portrait of an innocent child caughht up in a terrible war.
I put this book on my wish list because it was a book read by the Freedom Writers. I knew absolutely nothing about Sarajevo or Bosnia or the war that was occurring literally on the day that I was born. And although I still don't know much at all about the politics of the situation and all the ins and outs. Reading about a child's thoughts during war… terrifying.
After having read The Diary of Anne Frank, it is terrifying to read yet another tragic story. Although, admittedly, there was a much happier ending to this tale. The innocence of Zlata just shines out of the pages, and the terror and confusion that she felt… it is an incredibly uncomfortable read this novel. One that I would suggest for everyone. But still incredibly informative.
I had to read this novel in small bites – it is incredibly heart wrenching and horrifying. It is also kind of hopeful. A great reminder of the power of the human spirit. The part that I loved the most about this was the power of the human spirit. And the ways in which all of Zlata's family and neighbourhood banded together to support one another. It's not the kind of thing that can always be hoped for, and it is a reminder that people can survive anything.
Zlata's diary is a powerful and wonderful read. It is definitely not a feel good story or one that I necessarily felt the need or desire to read before bedtime, but it was definitely one that I will go back to in the future. And I would most definitely recommend it to others.