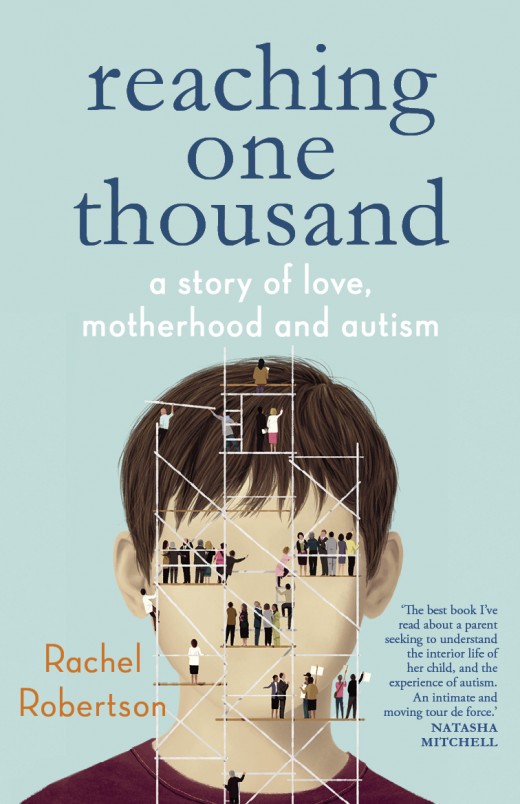 Title: Reaching One Thousand
Author: Rachel Robertson
Rating Out of 5: 5 (I will read this again and again and again)
My Bookshelves: Australian authors, Family, Mental health
Dates read: 15th – 16th May 2020
Pace: Slow
Format: Novel
Publisher: Black Inc.
Year: 2012
5th sentence, 74th page: We didn't know why or what he felt, just that he seemed to need constant distractions, constant holding.
When Ben is a baby, Rachel puts his quirks down to eccentricity. He likes to count letterboxes; he hates to get his hands dirty; loud noises make him anxious. But as Ben grows and his behaviour becomes more pronounced, it becomes clear there is something else going on. When he is diagnosed with autism, Rachel must reconsider everything she thought she knew about parenting, about Ben, and about how best to mother him.
Reaching One Thousand charts her quest to understand autism and to build a new kind of relationship with her son. Along the way she explores her own childhood, discovering unexpected links between Ben's experiences and her own. before she can presume to tell Ben's story, she realises, she must face difficult questions – questions about intimacy, trust, and what it means for a mother to write about her child.
Exquisitely written, this is a thought-provoking story about family and understanding, and a tender love letter from a mother to her son.
This is one of those books I bought as an impulse because it was on sale. It looked interesting, but I didn't really think that much more about it. Until I picked it up. It has now moved up to my favourites list. This is a book that I'll read again and again. A book that had me laughing at points, feeling uncomfortable, sympathetic, enlightened… so many emotions. There is just something amazing not only about Robertson's writing, but also the story she tells and the way she tells it.
The writing style of this novel is quite unique. There is no real linear narrative, and even the chapters, whilst they have an overarching theme, tend to have multiple little anecdotes throughout. Which all lead to the same conclusion. I loved this different style of writing. It wasn't something that I come across everyday, and the different way of telling the story highlighted the fact that this is real life. There isn't a sense of disconnect, and yet connection between the different aspects of life with an autistic son.
What I seriously loved most about this novel is that although Robertson has had issues in the past of facing up to the fact that her son is not neurotypical, she is also so open minded. She finds all of the positives and moments that are uniquely special to her child. She points out that he really doesn't need to be changed or made into a more neurotypical form… that his very uniqueness is what makes him so precious. And special. And unique. And just plain wonderful.
There aren't many books that are truly life changing. That make you seriously look at the world and reconfigure what you think about it. This is one of those stories. It makes you stop and look at those who aren't quite "normal" in a totally different light. Makes you realise that our systems and the way we think about learning and people really isn't necessarily correct. And that there is beauty in difference. Beauty in what we don't understand. The fact that I related a little too much to some of Ben's difficulties just made me love this book all that much more…
| | |
| --- | --- |
| <- Purple Prose | The Sky Falls Down -> |