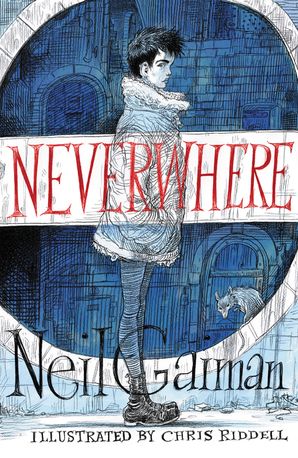 Title: Neverwhere
Author: Neil Gaiman
Series: London Below, The World of Neverwhere #1
Rating Out of 5: 5 (I will read this again and again and again)
My Bookshelves: Science fiction, Urban fantasy
Dates read: 12th – 20th April 2020
Pace: Medium
Format: Novel
Publisher: headline
Year: 1996
5th sentence, 74th page: Oh yes.
Under the streets of London lies a world most people could never dream of.
When Richard Mayhew helps a mysterious girl he finds bleeding on the pavement, his boring life changes in an instant. Her name is Door, she's on the run from two assassins in black suits and she comes from London Below.
His act of kindness leads him to a place filled with monsters and angels, a Beast in a labyrinth and an Earl who holds Court in a Tube train.
It is strangely familiar yet utterly bizarre.
As with all Neil Gaiman books, I have heard nothing but good things about this novel. And I bought a special edition in a sale because it was illustrated… which always makes me happy. What I didn't expect was that this would quickly become my favourite Neil Gaiman book. There is just something so wonderful and fantastic about this story… it's impossible to forget. And, honestly, why would you want to? I think that the world of London Below is the kind of place I'd be happy living in… for about 5 minutes, and then I'd die…
As an adult, there is one question that I keep coming up against… what is life about? What is it that I want out of my life? Richard doesn't quite know that these are the questions he's asking himself, but from the very beginning it is obvious that he isn't quite living the life that he wants to live. He's completely lost. Kind of untethered and, honestly, enough to pluck at your heartstrings. And then he meets Door and he is thrust into a whole other level of shit. But, one that actually leaves him feeling like there's something interesting in life. And, honestly, isn't that all that we each want? SOMETHING in life that makes it worth living?
There are so many wonderfully intense things about the storyline of Neverwhere. But what I love the most is the world that Gaiman has created. It is a little too easy to imagine London Below sitting just beneath our feet everyday. It makes me wonder what the version of this world would be down in Australia. There are so many brilliant little, intricate moments of change and difference that I just can't even comprehend. So many brilliant little ideas that seem so damn obvious now that I've read them… but at the time, seemed completely, ridiculously far-fetched… I just love the dark, twisted world that Gaiman has created. It's not the sunshine and daisies version of an urban fantasy world that I normally come across in my books…
Neverwhere is one of the most enthralling and astonishing books I've read in a while. It's not one that you can't put down (for which I was glad, because I don't want to do nothing all day). But it is one that will stick with me, and whoever reads it for a long time after they turn that final page. It is an amazing journey, a great story and filled with characters that are loveable – even when they're the villains.