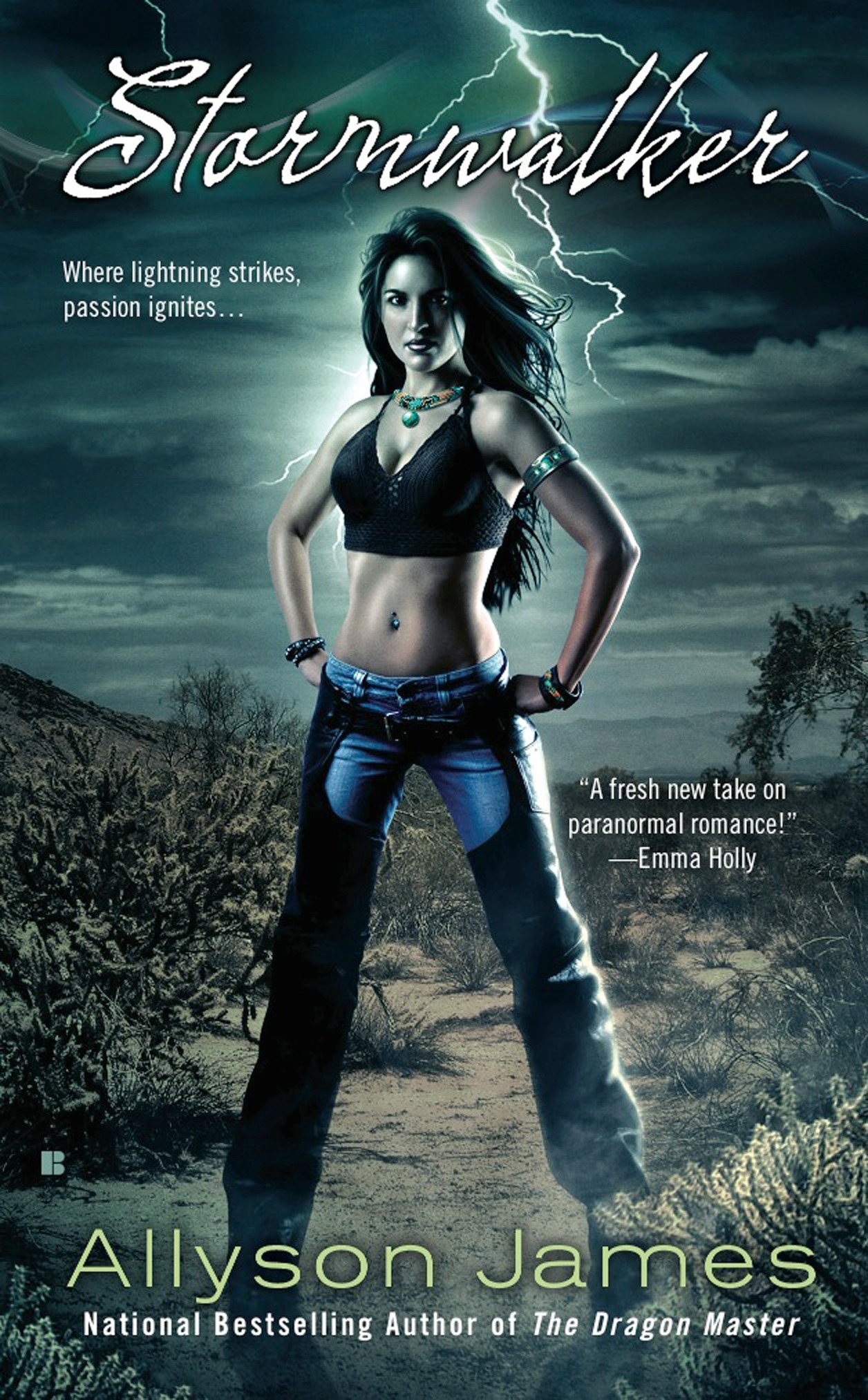 Title: Stormwalker
Author: Allyson James
Series: Stormwalker #1
Rating Out of 5: 5 (I will read this again and again and again)
My Bookshelves: Dragons, Paranormal romance, Strong women, Urban fantasy
Dates read: 29th March – 5th April 2020
Pace: Fast
Format: Novel
Publisher: Berkley Sensation
Year: 2010
5th sentence, 74th page: I was too tired to answer, too tired to aruge, but I couldn't deny that I'd missed him too.
Janet Begay is a Stormwalker, capable of wielding the raw elemental power of nature's tempests – a power that threatens to overwhelm her. Only her lover, Mick, a dark-haired, blue-eyed biker, is able to siphon off her excess energy and calm the storm raging within her – even as their passion reaches unimaginable heights of ecstasy.
Janet and Mick have come to the desert town of Magellan to investigate the mysterious disappearance of the police chief's daughter. The barren land around it is full of vortexes, the gateways that connect the human world with the mystical realm of Beneath, and after encountering skin-walkers and receiving hints from a shape-shifting coyote and a smart-ass magic mirror, Janet fears that her own powerful, scary-as-hell mother is involved.
She's also uncertain about Mick. He can wield fire and never get burned, and Janet can't seem to touch him with her storm powers. But Janet must trust him, since she and Mick find themselves venturing where no human can survive alone – and only together can they overcome the greatest danger they've ever faced.
I've been trying to get around to this book for a very long time. And now… wow. It is amazing and unforgettable. Completely unputdownable and just… awesome. I only read a few pages when I first started it, then got distracted. And then, when I picked it up again… I finished the rest of it in one day. Luckily, we're at the start of quarantine, so I didn't have to feel too bad about shoving my nose into a book for that long…
Janet is everything I didn't know I needed in a lead female – she is of Native American descent (which I very rarely come across), has a mother from hell (literally) and some serious boy complications. Yet, in amongst all of that, she finds a way to be herself. She's not as sassy as some of the other lead women that I've loved… but she has this sense of self that I just couldn't get over. She's determined to do what's right and find a way to live her life, even if it's the more difficult decision. There is something incredibly inspiring and heartfelt about her approach to life, and I think I need to take a few leaves out of her book – I don't need to be sassy and tough, just find a way to be sure of myself.
Sadly, I had already read Double Hexed before I picked up this novel. Although, it is the reason why I bought Stormwalker in the first place. Regardless, because I'd already read a novella further in the series, I already knew exactly what Mick was. It didn't take away a bit of the wow factor when the final reveal occurred at the end. But, it did still work well. After all, a lot of the angst in Janet and Mick's relationship throughout the story is based around the idea that Mick refuses to tell her the full truth. And, to be honest, there were still a few shockers in the big reveal anyway.
Stormwalker is a fantastic first book of a series! I only have Firewalker on my shelves, but the moment I finish this review, I'm going to start on it… this is just such a great series and I absolutely adored every moment of it! I am really looking forward to finding out more about the relationships between Janet, Mick, and their annoying, sexual deviant companions the Magic Mirror and Coyote.