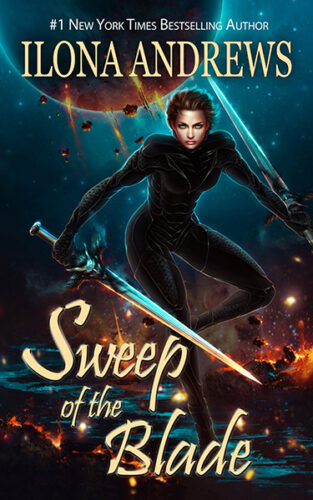 Title: Sweep of the Blade
Author: Ilona Andrews
Series: Innkeeper Chronicles #4
Rating Out of 5: 5 (I will read this again and again and again)
My Bookshelves: Paranormal fantasy, Paranormal romance, Science fiction
Dates read: 22nd – 23rd March 2020
Pace: Fast
Format: Novel
Publisher: Ilona Andrews
Year: 2019
5th sentence, 74th page: Everything had to be just so.
Maud Demille is a daughter of Innkeepers – a special group who provide 'lodging' to other-planetary visitors – so she knows that a simple life isn't in the cards. But even Maud could never have anticipated what Fate would throw at her.
Once a wife to a powerful vampire knight, Maud and her young daughter, Helen, were exiled with him for his treachery to the desolate, savage planet of Karhari. Karhari killed her husband, and Maud – completely abandoned by his family – has spent over a year avenging his debts. Rescued by her sister Dina, she's sworn off all things vampire.
Except… In helping Dina save the world, she met Arland, the Marshal of House Krahr, one of the most powerful vampire houses. One thing led to another and he asked for her hand in marriage. She declined. Arland is not used to hearing the word 'no;' and try as she might, Maud can't just walk away from Arland. It doesn't help that being human is a lot harder for Maud than being a vampire.
To sort it all out, she accepts his invitation to visit his home planet. House Krahr is extremely influential and Maud knows that a woman – a human, with a very questionable past – who's turned down a proposal from its most beloved son won't get a warm reception. Maybe she's not sure about marrying Arland, but House Krahr isn't going to decide for her. Maud Demille has never run from a fight, and House Krahr will soon discover that there's a lot more to Maud than they're expecting.
I haven't had the pleasure of reading an Ilona Andrews book for a little while. I was waiting for some to come out, and then I just honestly got kind of distracted. And now I'm wondering why it has taken me so damn long to pick up the latest Innkeeper Chronicles book from my shelf. Or at least, the latest that I own…. I now need to buy the next book in the series. But anyway… this story has the usual, strength, action and intensity of Andrews' books and I found it completely impossible to put down.
Although I did absolutely adore this story, I did kind of miss Dina in it. I am completely in love with Dina, Sean and the inn. Yet, it was amazing reading about Arland and Maud. Especially since Arland appears in the first novel, and his kind of dry humour and intense sense of honour drew me to him completely. Actually, although I think Sean is great (especially for Dina), he was my favourite of the two lead men. Partner him with Maud who is completely kick-ass from the very moment of meeting, and it's an absolute match made in heaven… or in the inter-planetary stars.
I completely loved both Arland and Maud in this story, but for me… Helen kind of stole the show. She is adorable, fierce and independent. Her ability to find a new niche for herself no matter what world she's in is completely admirable. My favourite part of the book? When Helen decides that punishment is okay, so she breaks another child's arm. Her total acceptance of punishment if it means that she fights for what is right is admirable and adorable. It's something that I myself would love to incorporate into my life, and this is a six-year-old!
Vampire lore and culture are often mentioned in the first three novels of this series. As is the fact that they're another race from space, but that's a whole extra aspect of this series. What I love though is the fact that this book gets into the nitty gritties of this culture and way of life. It's one of my favourite aspects of Andrews' writing – she has epic world building. And even part of the way into a series, there are still new worlds and things to discover. In the most intimate of details…