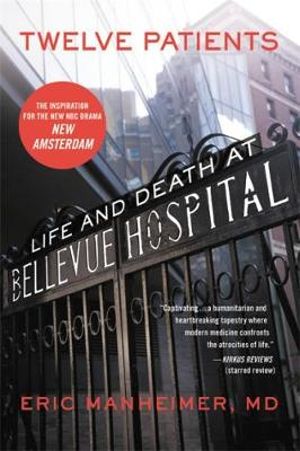 Title: Twelve Patients: Life and Death at Bellevue Hospital
Author: Dr. Eric Manheimer, MD
Rating Out of 5: 5 (I will read this again and again and again)
My Bookshelves: Medical, Memoirs
Dates read: 4th – 20th March 2020
Pace: Slow
Format: Novel
Publisher: Grand Central Publishing
Year: 2012
5th sentence, 74th page: 'From the cavernous echo of his cough and the darkened skin within the triangular radiation markins in black ink on his back, his lung cancer was advanced.
Bellevue is famous for its psych ward, but it's much more than that.
The largest public hospital in New York City, it's also where doctors treat everyone from the bluebloods of Park Avenue to the illegal immigrants who huddle in Chinatown's tenements. In its way, Bellevue is a microcosm of the world – and a bellwether for the toughest issues in our country.
TWELVE PATIENTS
In this riveting book, Dr. Eric Manheimer, the hospital's former medical director, uses stories taken from case histories to humanize hot-button issues such as immigration, obesity, teen suicide, and the cost of health care. You will get to know Jeffrey, the homeless man with the brilliant past, and Arnie, a prominent Wall Street financier, whose emergency room visit for chest pains unravels a toxic lifestyle. Dr. Manheimer takes readers from teh boardrooms where health-care budgets are debated to the emergency room on a night when New York's stretched-to-capacity hospitals overflow – and mistakes get made.
The author is not just a doctor – he's also a patient. After being diagnosed with throat cancer, Dr. Manheimer takes us on a tour through the shadowland between life and death.
When I found out that one of my new favourite series, New Amsterdam, was based on a book, I immediately jumped online and bought it (which may be why I don't have great savings…). And once I started reading it? I was very pleasantly surprised. Not only was it as good as the TV show, in some instances it was better – something about the words really hit home as to the intensity of the social and political issues which Manheimer brings to light in each of his chapters.
From the very title, it's pretty obvious that this book has twelve chapters, each of which focuses on its own patient. What I didn't realise was how potent and intense each of these stories would be. Normally when I love a book this much, I just lap it up in a matter of days (sometimes hours). But because of the subject matter throughout this book, I found myself lingering over a few weeks. I thoroughly enjoyed picking this up late at night and reading a small handful of pages just before bed. Anytime that I wanted to truly think about things and how difficult the world can be, I loved to pick this up. But it wasn't the kind of book I would just read to escape for half an hour.
Although I'm not American, many of the issues and difficulties that Manheimer brings to light in his reminiscing are still issues that are faced in Australia. Alright, some are uniquely American – we don't really have a wall in which to keep out gangsters (there's a number of giant oceans instead), but racism, labelling, mental health issues… these are all things that we too need to face and deal with. Aspects of our lives which are intense and difficult, but can't just be swept under the rug. After all, we need to deal with the nastiness if we are ever to move forward and create a better future…
Twelve Patients was everything that I was expecting and more. It gave me insight not only into the social and political demographics of New York, but it also provided a great insight into the outlay of the American Health System. Which kind of terrifies me. The little I know of the Australian one is much more sound and comforting… this novel not only swept me away and enthralled me, but it also just generally filled my head with wonderful new information. Not necessarily about the mechanics of the medical system, but the emotional, social and physical drains which are placed upon people who are in the system. The mental health of people. And just how some can find themselves in the worst of situations… and survive.